Ed Asner: Hollywood Silent on Syria Because They 'Don't Want to Feel Anti-Black'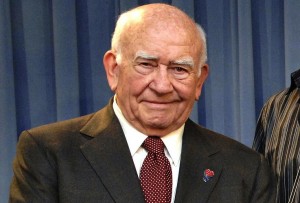 With the current run-up to war in Syria, you may very well ask where Hollywood is. After all, a lot of celebrities were very vocal about war during the Bush administration. So where are they now? Well, many have apparently OD'd on political correctness. Ed Asner, Hollywood actor and longtime liberal activist, admitted to The Hollywood Reporter that Hollywood doesn't want to appear "anti-black" in opposing President Obama.
Both Asner and former M*A*S*H star Mike Farrell have personally been very outspoken about Syria, with Farrell calling Obama's plan of limited military action as "a potential war crime." As far as Asner's concerned, though, it's far too late for Hollywood to jump in. He said, "This country will either bomb the hell out of Syria or not before Hollywood gets off its ass."
Asner also attributed "unsuccessful efforts" to protest Iraq to Hollywood's more recent complacency, before revealing the big underlying reason Hollywood wants no part of criticizing Obama's Syria plan.
Another reason some Hollywood progressives have been reticent to speak out against war in Syria, according to Asner, is fear of being called racist.

"A lot of people don't want to feel anti-black by being opposed to Obama," he said.
He also told THR that too many people who voted for Obama (himself among them) have "lost hope," and at this point in his presidency, "'Who gives a shit?' is essentially the bottom line."
[h/t Newsbusters]
[photo via DoD]
— —
Follow Josh Feldman on Twitter: @feldmaniac
Have a tip we should know? tips@mediaite.com
Josh Feldman - Senior Editor