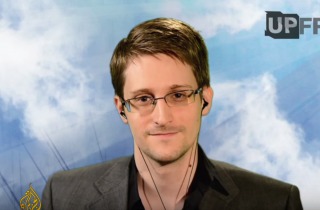 Edward Snowden is still waiting for the U.S. Department of Justice to offer him a plea deal before he can return to the country, the former National Security Agency contractor said in a new interview set to air Monday night.
Speaking to BBC News, Snowden, who faces espionage charges and has lived under asylum in Russia for two years, said he has offered to go to prison "many times," but is "still waiting for them to call [me] back," The Guardian reported.
Back in July, shortly after leaving his post as attorney general, Eric Holder commended Snowden for starting "a necessary debate" about surveillance and privacy. He also said the "possibility exists" that the Justice Department would offer Snowden a plea deal allowing him to return to the U.S. if he were to enter a guilty plea. As it stands currently, if Snowden returns to the U.S. without first reaching a plea deal with the DoJ, he would be tried in accordance with the Espionage Act and could face 30 years or more behind bars.
"I've volunteered to go to prison with the government many times," Snowden said in the BBC interview, adding that he is "of course" prepared for a prison sentence. "What I won't do is I won't serve as a deterrent to people trying to do the right thing in difficult situations."
Snowden left the U.S. after leaking thousands of pages of classified documents revealing the extent to which the NSA was engaging in surveillance practices. Former NSA chief Michael Hayden, a longtime critic of Snowden, said he doesn't believe that Snowden will ever return to the United States.
"If you're asking me my opinion, he's going to die in Moscow," Hayden said. "He's not coming home."
Snowden recently launched a Twitter account, and weighed in on the email controversy engulfing former Secretary of State Hillary Clinton's presidential campaign.
[Image via screengrab]
— —
>>Follow Andrew Desiderio (@desiderioDC) on Twitter
Have a tip we should know? tips@mediaite.com