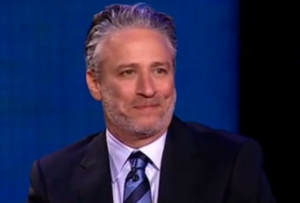 A popular Egyptian author has reason to fear the future of his nation, believing that there are forces trying to undermine Egypt and bringing about an insurrection of sorts, and one of the people involved in this global subversion is… Jon Stewart?! Yes, Egyptian author Amr Ammar said on Tahrir TV earlier this month that based on an appearance on an Egyptian TV show this year, Stewart appears to be involved in some sort of subversive scheme to undermine the Egyptian regime because of something to do with Mika Brzezinski's dad.
Ammar, during a December 5th appearance on an Egyptian talk show, drew a connection between a piece written by Zbigniew Brzezinski in 1970 and a joke Stewart told on a comedy show in 2013. Stewart was on Al Bernameg, a show similar to The Daily Show hosted by Bassem Youssef, and Ammar found something suspicious about the two of them.
[Brzezinski] said that millions of people can be mobilized by what he called a fad, using the new media, technology, conventional media, and so on, thus giving rise to an attractive and charismatic personality… Thirty-three years later, this fad has emerged here in Egypt, in the form of Bassem Youssef. I think he said so himself. He said that he might be just a fad that could that could disappear. He said so himself. With his magnetic personality, he attracts the Egyptian people.
He called Stewart Youssef's "spiritual father," and accused him of carrying out Brzezinski's ideas "on the American people and media," and this is his proof.
If you recall, when Jon Stewart visited here in Egypt, he was a guest on Bassem Youssef's show. Note what Jon Stewart said as a joke. He said: "I am sorry I am late. I wandered in the desert, but now I've found my homeland." That's what he said word for word – a Jew who wandered in the desert, but, thank God, found his homeland. This man says, in the heart of Egypt and on an Egyptian media outlet, that Egypt belongs to them, that it is his homeland.
Now, aside from the fact that such a quote wouldn't really come across as conspiratorial in the first place, Stewart actually never said that. Youssef joked that Stewart's currently unemployed (John Oliver was filling in on The Daily Show at the time), and asked him what he's up to. Stewart delivered the following joke.
"I'm just wandering–as you know, my people like to wander the desert, so that's what I'm doing now, wandering the desert. It's been two weeks, I've got 38 years and 50 weeks left."
That is the quote a prominent Egyptian author took to be a bold declaration of intimidation against the people of Egypt.
You can watch Stewart's appearance on Youssef's program below (the comments in question come in at the 4:30 mark), via CBC:
[h/t Bloomberg]
[photo via screengrab]
— —
Follow Josh Feldman on Twitter: @feldmaniac
Have a tip we should know? tips@mediaite.com
Josh Feldman - Senior Editor