Eliot Spitzer Attempts Comeback With Run For New York Comptroller: 'I'm Hopeful There Will Be Forgiveness'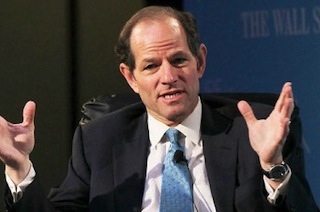 Eliot Spitzer, who resigned as governor of New York five years ago over a prostitution scandal, announced Sunday night that he will run for New York Comptroller.
"I'm hopeful there will be forgiveness, I am asking for it," Spitzer told the New York Times.
The decision was last minute, and drew a stinging rebuke from the hitherto-unopposed Democratic candidate Scott Stringer.
Before resigning, Spitzer had been an aggressive opponent of banking and CEO excess, first using his position as attorney general and then governor to go after politically and financially powerful interests in what many saw as a prelude to a presidential run. His public distaste for corruption made his prostitution scandal all the more ironic, and all the more satisfying for his enemies.
Making his current run even stranger, Spitzer will be opposed by Kristen Davis, an ex-call girl madam implicated in his scandal.
Spitzer now joins former New York Congressman Anthony Weiner, who is using a mayoral run to return from his own sex scandal, and former South Carolina Governor Mark Sanford, who recently won back his old House seat despite an international affair that ran him out of office, in the current crop of politicians seeking to put their salacious pasts behind them.
Ben Smith of Buzzfeed made short work of the false equivalencies between Weiner and Spitzer:
But Spitzer has basically nothing in common with Weiner, aside from their low body fat, and shared (and lightly observed) Jewish faith. Weiner is a talented politician who left Congress with no major legislative accomplishments and everything to prove. Spitzer was a major force in American public life for eight years despite having no particular talent for politics. Weiner's online romances brought him down because they were weird. Spitzer's ordinary sin — any number of politicians have survived prostitution scandals — ended his tenure as governor because his governorship was already going terribly.

[…] The question for Spitzer is whose head he will take off first.
[h/t New York Times]
—
>> Follow Evan McMurry (@evanmcmurry) on Twitter
Have a tip we should know? tips@mediaite.com