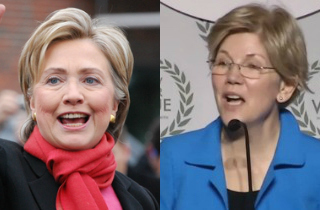 In this week's New Yorker, Ryan Lizza takes on the "virtual" candidacy of Sen. Elizabeth Warren (D-MA), who is definitively not running for president but still somehow has managed to be Hillary Clinton's "biggest Democratic threat."
Lizza's piece attempt to get to the bottom of what effect Warren is having on Clinton's still-largely-unknown platform and reveals the differences in how each side views the unique situation. On the one hand, Center for American Progress head Neera Tanden, who also advises Clinton, played down the idea that Warren's rhetoric on issues like income inequality and reigning in Wall Street is influencing the candidate.
"Hillary was talking about rising inequality and how the deck was stacked against people in 2007 and 2008," Tanden told Lizza. "I see a lot of overlap. I do not see a causal link from one person to the other."
But on the other hand, Lizza described a picture, "privately circulated" by Warren's advisers "showing the two women sitting beside each other, a quote bubble emanating from Clinton: 'What she said.'"
As for Warren, she gave perhaps the most nuanced and revealing answer when Lizza asked her if she believes Clinton is "co-opting" her message. "Eh," she said, adding, "She's laying out her vision for the country and she deserves an opportunity to do that."
Warren is clearly loathe to criticize Hillary Clinton at this stage of the race, but will likely "hold her feet to the fire" when necessary, as one unnamed adviser suggested to Lizza. After all, she has shown she can do it before, as the writer uncovered in a passage from Warren's 2003 book, The Two-Income Trap
, which takes on the first lady-turned-senator's apparent flip-flop on an "industry-friendly" bankruptcy reform bill:
This time freshman Senator Hillary Clinton voted in favor of the bill. Had the bill been transformed to get rid of all those awful provisions that had so concerned First Lady Hillary Clinton? No. The bill was essentially the same, but Hillary Rodham Clinton was not. As First Lady, Mrs. Clinton had been persuaded that the bill was bad for families, and she was willing to fight for her beliefs. Her husband was a lame duck at the time he vetoed the bill; he could afford to forgo future campaign contributions. As New York's newest senator, however, it seems that Hillary Clinton could not afford such a principled position. Campaigns cost money, and that money wasn't coming from families in financial trouble. Senator Clinton received $140,000 in campaign contributions from banking industry executives in a single year, making her one of the top two recipients in the Senate. Big banks were now part of Senator Clinton's constituency. She wanted their support, and they wanted hers—including a vote in favor of "that awful bill."
It is that kind of attack that many progressives want Clinton to face in her currently nonexistent primary.
Read the full Warren profile at newyorker.com.
[h/t Olivia Nuzzi]
[Photo via Frontpage / Shutterstock.com]
— —
>> Follow Matt Wilstein (@TheMattWilstein) on Twitter
Have a tip we should know? tips@mediaite.com