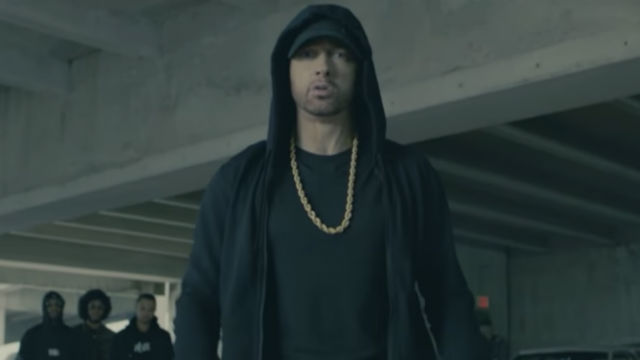 Eminem, who did that big anti-Trump freestyle last October, continued trashing President Trump in a new interview this week.
During an interview with Billboard, Marshall Mathers and Paul Rosenberg briefly talked about politics and their reaction to election night.
Eminem said he was "watching the TV in fucking disbelief" as he realized Trump would win.
He calls Trump supporters "fanatics" who the President "fucking duped" and made it clear he felt Hillary Clinton was unquestionably better:
I know that Hillary [Clinton] had her flaws, but you know what? Anything would have been better [than Trump]. A fucking turd would have been better as a president. When I [put out "The Storm"], I felt that everybody who was with him at that point doesn't like my music anyway. I get the comparison with the non-political-correctness, but other than that, we're polar opposites. He made these people feel like he was really going to do something for them. It's just so fucking disgusting how divisive his language is, the rhetoric, the Charlottesville shit, just watching it going, "I can't believe he's saying this." When he was talking about John McCain, I thought he was done. You're fucking with military veterans, you're talking about a military war hero who was captured and tortured. It just didn't matter. It doesn't matter. And that's some scary shit to me.
[image via screengrab]
— —
Follow Josh Feldman on Twitter: @feldmaniac
Have a tip we should know? tips@mediaite.com
Josh Feldman - Senior Editor