ESPN Creates Own PR Disaster by Refusing to Pay 6th Grader for NCAA Pool Victory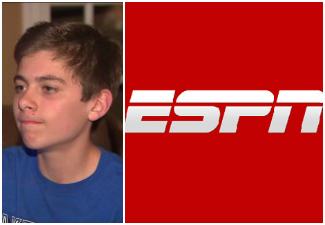 Guess how much ESPN is worth these days…
A) $10 billion
B) $25 billion
C) $50 billion
If you answered C, you win a gold star…which is about all that 12-year-old Sam Holtz of Illinois will take home after winning ESPN's bracket challenge. One problem: Said challenge is supposed to pay $20,000 and a trip to Maui to a randomly-drawn winner among the top 1%. But because Sam is only 12, he's ineligible to be considered for the prize.
Rules are rules — that's understood. In this case, Sam used his Dad's email address to enter his picks. But ESPN could slam-dunk this situation in a hurry by simply stating while the sixth grader isn't eligible for his winnings now, he can use the money–put away in a trust–to apply toward a college education or trade school at age 18. As for the trip, that too can be used upon graduation. It almost makes too much sense…
How awesome was Sam's bracket performance, by the way? He missed only six games on the entire bracket — and scored a perfect 100 percent on games played in the Sweet 16, Elite 8, Final 4 and the Championship (a 68-63 Duke win over Wisconsin). But instead of paying him in some capacity, the Chicago Tribune reports SportsCenter offered to let him anchor an episode of the show. His mother told a local paper (The Daily Herald) she plans on keeping Sam home from school today because ESPN (and other outlets) are begging for interviews. In other words, the network plans on exploiting the situation–which it will portray itself otherwise as doing cool stuff for the kid instead–that will be of little cost to the most profitable channel in the history of television.
"I'm irritated," Holtz told the Daily Herald. "Yes, I'm still proud of my accomplishment, but I'm not happy with the decision."
Nor should he. ESPN had a chance here to take an awkward situation and turn it into PR gold. Instead, they blow an easy layup on their way to looking like the cheapest rich guy on the block.
"The great thing is that this kid beat all these experts out there," ESPN spokesman Kevin Ota explains. "He beat all of our commentators, all these celebrities, all the college experts. That's what makes this so awesome. The prize really is secondary."
When you're worth $50 billion, maybe a mere $20,000 and a trip to Maui can be characterized as "secondary."
— —
>> Follow Joe Concha on Twitter @JoeConchaTV
Have a tip we should know? tips@mediaite.com