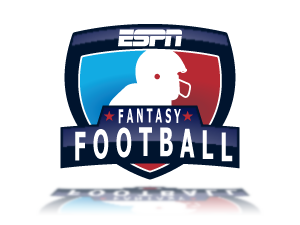 ESPN has finally realized the ultimate way to connect with its fan base – throwing a house party. Still riding the wave of the undying phenomenon that is Fantasy Sports, the network is going one step further in engaging their Fantasy Footballers at the most crucial time of their year (the draft): local events and draft parties!
This week they're organizing 1,000 house parties nationwide with ESPN.com league managers and recruited "ambassadors" hosting drafts. They've advertised the event on the air and have gotten the help of House Party, Inc., a social marketing company specializing in event production. By the looks of it, ESPN is relying on social media to market, encouraging fans to "Spread the word by posting to Twitter, Facebook, YouTube." Videos of live drafts online provide ways for Footballers and leagues to interact and add to the fervor.
For most of the male population this is the funnest, most anticipated event of their sports year. But for those of us who don't understand the allure, this story is utterly incomprehensible – a television network hosting 1,000 parties around the country to do what? But that's the brilliance of the whole concept: targeting an ultra-specific but ultra-enthused demographic eager to throw down money for their chance to draft the perfect team.
Plugging the event in a press release, Jason Waram claims the parties are to "celebrate" the small congregations of straight men who have made the Fantasy a such a successful Reality.
"We're kicking off fantasy football this year by celebrating it the way it began – in people's homes and social circles," said Jason Waram, vice president of fantasy games for ESPN. "The strength of this game is rooted in its communities and the sports passions they share, and that is why we've seen ESPN Fantasy Football grow nearly exponentially since it began on ESPN.com, including over 33 times the participation since 2005 alone."
Sports have always been events that distract people from real life, and perhaps ESPN is taking advantage of these times of recession to provide some fun for the whole family (and simultaneously market the shit out of Fantasy). Check out at this picture from a recent fantasy draft party on the front page of ESPN's Fantasy Football page today: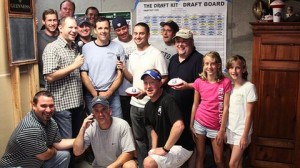 Aside from distracting from the plummeting economy, draft parties are also stimulating the job market. Behold, the greatest post to ever grace the food/beverage/hospitality jobs section of Craig's List:
"I am looking for an attractive woman in her twenties to grill hotdogs on my rooftop wearing a bikini for my fantasy football draft. This will be an easy job and pays well. It will only be a couple hours work and I will pay you 200 dollars; all you have to do is look pretty and serve us hotdogs. After your work is done you are welcome to stay longer for free beer, food, and all the fantasy football tips and analysis you can handle. Please tell me a little bit about yourself and be sure to include photos. Thanks!"
Kudos to Fantasy Football for relieving all our distress over unemployment.
Have a tip we should know? tips@mediaite.com