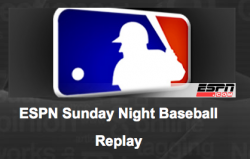 As the New York Yankees completed a dominating four-game sweep of the Boston Red Sox last night, ESPN was experimenting with a new technology – one that takes on extra significance in light of last week's rigid internal memo clamping down on social media.
ESPN told Mediaite the "specific tools and implementations are in development" for greater incorporation of social media into ESPN.com and beyond, and last night that plan took effect. How did it go?
For Twitter fans and sports fans alike, the results were promising. ESPN put a link on the front page of ESPN.com to a page featuring a CoverItLive chat, which incorporates tweets from its reporters and other staffers and user submitted comments. This technology is not new – we've used it here at Mediaite – but it is ESPN's first foray into the world of live blogging in this way.
Bill Simmons explained what was about to happen prior to the game, and his involvement, last night on Twitter. "Sorry in advance for the tweet-binge during Bos-NY. ESPN.com is trying a little experiment tonite," he wrote.
What followed involved Simmons, ESPN reporters Jayson Stark and Rob Neyer and more contributing live streaming tweets into the chat window. Also periodically stopping by was "ESPN Stats and Information" with real time discussion points and bits of info. Readers could ask questions or make comments, and a moderator would put that through into the chat, for anyone to respond to.
Was it revolutionary? No. But it does show the power of what can happen when the "Worldwide Leader in Sports" combines broadcasting the game on TV, drawing in interested users to its Web property and pulling from its personalities and talent in the social media world for one-stop sports entertainment.
What's more, it was fun. Neyer was ribbing the Sports Guy, readers were making smart observations picked up in the feed – it was the beginning of what will hopefully be the future of ESPN. And it does a great job to quiet the critics last week.
> Update: A tipster noted this is not ESPN's first time live-blogging an event this way.
—–
» Follow Steve Krakauer on Twitter
Have a tip we should know? tips@mediaite.com