Esquire Report Alleges Observer Declined Under Kushner, Used Paper to Settle Scores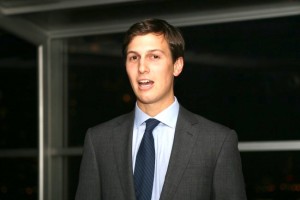 A profile of Jared Kushner — Donald Trump's son-in-law, political adviser, and owner of the Observer — published in Esquire last week is revealing for what it says about what happens when the cutthroat world of NYC real estate and journalism collide. While the article was presumably about Kushner's role in the Trump campaign, it contained a good number of juicy media nuggets.
Well known journalist Vicky Ward reports that after Kushner purchased the "once venerable newspaper" in 2006, he began using it to settle personal scores.
Ward writes that, in one instance, he sicced three different journalists (including Ward) to chase the same non-story intended to smear an old real estate rival with whom he had a lingering grudge.
She writes:
[O]vert aggression has not gone over well in the more sensitive environs of the New YorkObserver. A source close to Jared says that he did not understand, when he bought the company, how much resistance he would face from the journalists who worked there.

[…] It is widely believed that the quality of the journalism in the Observer has declined under Jared's ownership, but he has had much more success with the Commercial Observer, a real estate spin-off.
To be fair, the Observer's traffic is also up significantly in the past year, which is not mentioned in the piece. Unflattering as the article often is to Kushner, only one factual correction has been offered in the entire week it's been online, and that seems to be almost a further tongue-in-cheek slap: "An earlier version of this article misstated the time of the Tuesday meetings. They take place at 8:30 am, not eight o'clock."
—
[image: Lori Berkowitz Photography, via Wikicommons. CC BY 2.0]
Have a tip we should know? tips@mediaite.com