Even After Tomorrow's New York Primary, Kasich Will Still Have Fewer Votes Than Marco Rubio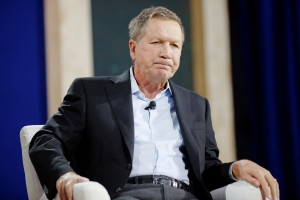 Technically, there are three remaining candidates vying for the Republican party nomination in the 2016 cycle. Frontrunner Donald J. Trump certainly has the lion's share of support, while Texas Senator Ted Cruz is making a late push for necessary delegates. Then there is a third candidate — Ohio Governor John Kasich — who is mathematically eliminated from earning the 1,237 delegates to earn the nomination pre-convention, but is hanging in there nonetheless.
In all of the talk about delegates, it can be easy to simply square away the number of pledged supporters for the GOP and disregard the popular vote: the sheer number of Americans who have voted in the primary season on behalf of one candidate or another. And in that realm, the third-place Kasich actually drops to fourth place… falling far behind former candidate and Florida Senator Marco Rubio, who suspended his campaign over a month ago.
Here is a look at the popular vote for the Republican candidates, according to Real Clear Politics:
Donald J. Trump 8,197,535
Ted Cruz 6,263,349
Marco Rubio 3,445,578
John Kasich 2,960,411
Tomorrow, Cruz and Kasich will be competing for a second place podium so small in New York that whoever gets it won't even be able to hear Trump's victory speech towering hundreds of feet above his head. Mitt Romney won the New York state primary in 2012, and in doing so, only took 103,142 total votes in the Empire State. Similarly, in 2008, Arizona Governor and eventual nominee John McCain won New York with 333,001 votes. By any conceivable last minute metric, Donald Trump — who is currently favored in his home state by a 29 point spread — will demolish those numbers tomorrow night.
So where does that leave Kasich? Currently, he is 485,167 votes shy of the fella who long ago decided he had no realistic shot at the Presidency. Even if Kasich defeats Cruz in New York tomorrow, his popular vote total is likely to put him still a distant fourth place in the overall rankings (technically), still firmly locked behind establishment fanboy Rubio.
And after tomorrow's battle in New York, the month of April rounds out with five more states holding primary conventions: Connecticut, Delaware, Maryland, Pennsylvania, and Rhode Island, all on Tuesday April 26.
For comparisons sake, let's assume that Kasich can compete and take home second place in all five of those states (the Trump Train is steaming ahead in all five). In the 2012 GOP primary, the second-place finishers in each of those five state primaries were as follows:
Connecticut: Ron Paul, 8,014 total votes
Delaware: Newt Gingrich, 7,741 total votes
Maryland: Rick Santorum, 69,020 total votes
Pennsylvania: Rick Santorum, 146,745 total votes
Rhode Island: Ron Paul, 3,462 total votes
Adding up these second-place finishes in the popular vote, the primary runners-up in the next five states holding their 2016 primaries amasses a total of only 234,982 votes. If that number is any indication of the number of votes that the Kasich campaign can expect out of the month of April (a healthy estimate, since at best, he finishes second in those states), there is a very realistic possibility that even after those primaries, John Kasich will still head into the month of May with fewer popular votes than Rubio… by several hundred thousand.
Kasich is undoubtedly greasing the rails for a potential contested convention in Cleveland this summer, going as far as to hire Charlie Black who helped broker the 1976 convention on behalf of challenger Ronald Reagan. But it is going to be a tough sell for the Kasich campaign to convince any party bigwigs to support his candidacy when he continues to flounder against a candidate who is no longer even running. Many of the 60-some odd party endorsements that had backed Rubio will still be looking to claim allegiance elsewhere in time, but Kasich has some popular-vote ground to make up through May if he hopes to be that landing pad for conservative loyalists.
—
J.D. Durkin (@jiveDurkey) is a columnist at Mediaite.
[image via Flickr]
This is an opinion piece. The views expressed in this article are those of just the author.