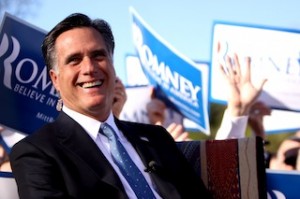 According to a new book about the 2012 presidential election by The Washington Post's Dan Balz, Mitt Romney didn't always think he was destined to be commander-in-chief. In an advanced copy of the upcoming Collision 2012: Obama vs. Romney and the Future of Elections in America,
obtained by The Huffington Post, Balz reveals that in an internal Romney family poll taken in 2010 to decide whether to go forward with the campaign, Mitt Romney voted "no."
According to reporter Sam Stein, Mitt Romney and his family took the poll during Christmas break 2010. Out of 12 votes cast, 10 members of the family reportedly voted against their patriarch running for president. Among the twelve was Romney himself. Balz lays out some of the reasons for Romney's reluctance:
Mitt Romney had other reasons to think that not running might be the wiser choice. Winning as a moderate from Massachusetts who happened to be Mormon was always going to be difficult. "A lot of the thinking on the part of my brothers and dad was, 'I'm not sure I can win a primary given those dynamics.'" Tagg Romney said. The prospective candidate also knew the sheer physical and family toll another campaign would take. 'He's a private person and, push comes to shove, he wants to spend time with his family and enjoy his time with them,' his son said. 'Even up until the day before he made the announcement, he was looking for excuses to get out of it. If there had been someone who he thought would have made a better president than he, he would gladly have stepped aside.'
Apparently the only thing that changed Romney's mind was the lack of alternative, viable GOP candidates willing to step up and run. "I didn't think that any one of them had a good chance of defeating the president," Romney told Balz, "and in some cases I thought that they lacked the experience and perspective necessary to do what was essential to get the country on track."
The Romney campaign was famously oblivious to the many polling models that indicated a victory for President Obama in the weeks and months leading up to the 2012 election. But according to Balz, Romney's running mate Rep. Paul Ryan (R-WI) was even more confident. "As he was preparing to fly to Boston in the later afternoon of Election Day," Balz writes of Ryan, "he was openly talking about resigning his chairmanship of the House Budget Committee immediately after the election and was already thinking of possible replacements to head the committee during the budget fight coming in the lame-duck session."
Read more excerpts from Balz's book at The Huffington Post.
—
>> Follow Matt Wilstein (@TheMattWilstein) on Twitter
Have a tip we should know? tips@mediaite.com