Ex-CBS Colleague Disputes O'Reilly's 'War Zone' Story: He 'Should Be Ashamed'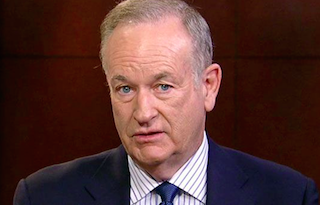 Fox News' Bill O'Reilly has tried hard over the past 48 hours to discredit reports from Mother Jones that claim he exaggerated his experience covering the Falkland Islands war more than 30 years ago. But those efforts may get a good deal more difficult after the latest development, courtesy of O'Reilly's former CBS News colleague, Eric Jon Engberg, who also covered that war from Argentina.
In a lengthy Facebook post published on Friday, Engberg raised several questions about the claims made by O'Reilly over the years about being in a "war zone" and hearing gunfire in the streets.
"Did Fox News bloviater Bill O'Reilly commit Brian Williams type fabrications when he claimed he had been in a 'combat situation' while working as a reporter for CBS News during the Falklands War in 1982?" Engberg asks at the top of his post. "Did he pad his resume' as he was laying claim to personal knowledge about what happens in war?" Over 11 paragraphs, he laid out areas in which he does believe O'Reilly "twisted the truth."
Engberg demanded that O'Reilly identify the photographer who was supposedly bleeding from his ear when the Fox anchor says he helped rescue him from violent riots. In his coverage of the Facebook post, the Washington Post's Erik Wemple has named the photographer as Roberto Moreno though efforts to reach him for comment have been unsuccessful.
By referring to the events he witnessed in Buenos Aires as a "combat situation," even in his defense of the Mother Jones piece, Engberg wrote that O'Reilly is "misrepresenting the situation he covered, and he is obviously doing so to burnish his credentials as a 'war correspondent,' which is not the work he was performing during the Falklands war."
"I don't think it's as big a lie as Brian Williams told because O'Reilly hasn't falsely claimed to be the target of an enemy attack, but he has displayed a willingness to twist the truth in a way that seeks to invent a battlefield that did not exist," Engberg added. "And he ought to be subject to the same scrutiny Williams faced. He also ought to be ashamed of himself."
Mother Jones' David Corn, who co-wrote the initial report on O'Reilly's "inconsistent" war stories, making himself the primary target of the Fox host's ire in the process, appeared to revel in this latest development.
He tweeted at O'Reilly Saturday afternoon:
Hey, Mr. @oreillyfactor, have you seen this? https://t.co/eJSX78uy5C

— David Corn (@DavidCornDC) February 21, 2015
Read the full Facebook post below:
[Photo via screengrab]
— —
UPDATE — 07:22 p.m. ET: Fox News released the following statement:
"The O'Reilly Factor invited Eric Engberg to appear on the program this Monday and he refused. The Factor has also contacted CBS News and asked them to release the footage in question. Bill O'Reilly will address Engberg's claims on Mediabuzz w/ Howard Kurtz tomorrow at 11 AM/ET."
>> Follow Matt Wilstein (@TheMattWilstein) on Twitter
Have a tip we should know? tips@mediaite.com