Ex-Dem Governor with Eyes on 2016 Can't Name a Single Positive Thing Obama's Done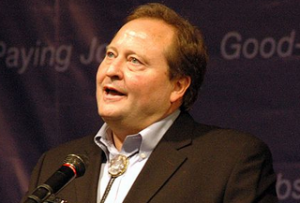 All the 2016 focus these past few weeks has been on Chris Christie's post-"BridgeGate" chances, but on the other side, Democrat Brian Schweitzer is planning on getting into the race as the "anti-Obama," one of only a few Democrats whose names have been tossed around to challenge Hillary Clinton. In a new MSNBC profile, Schweitzer stakes out a strong position on the left and is unable to think of a single positive thing President Obama has done in office.

Last month Schweitzer blasted Obama as a "corporatist" and said Clinton could very easily "shift hard right on Day 1," so when asked what he liked about the president's record, Schweitzer had to mull that over for a second.
Schweitzer is rubbing his chin, looking up at the ceiling, searching – unsuccessfully – for just the right words. The question was simple enough: Is there a single thing President Obama has done that you consider a positive achievement?

Finally, he spoke.

"My mother, God rest her soul, told me 'Brian, if you can't think of something nice to say about something change the subject,'" he said.
He goes on to hit Obama's record on civil liberties, Obamacare, and even saying his administration hasn't "been very good at running things." Schweitzer compares himself to Michael Moore and says he's not going to "roll over like a fat dog and get scratched by the pharmaceutical and insurance companies because, gee, we have to apologize for so-called Obamacare." Schweitzer is a proponent of a health care system similar to Canada's.
[h/t TPM]
— —
Follow Josh Feldman on Twitter: @feldmaniac
Have a tip we should know? tips@mediaite.com
Josh Feldman - Senior Editor