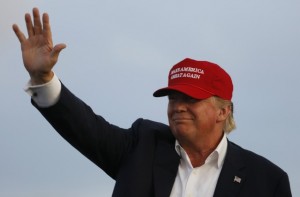 Marc Racicot served as chairman of the Republican National Committee from 2002 to 2003, and he is absolutely refusing to get behind his party's nominee.
Racicot wrote an op-ed for The Washington Post titled "Americans can choose better than Trump," in which he starts things out by talking about Abe Lincoln at great length.
He speaks of how America has always turned to "good and courageous men and women of character and fortitude" in dark times, and how Lincoln was chosen––despite his political and business failings––because the American people sensed he was a man of good virtue.
And while Racicot doesn't quite come out and say Trump is the opposite of Lincoln, it's close:
I know that 13 million people, my fellow citizens, have made their initial choice in voting for Donald Trump, thereby elevating his candidacy to presumed nominee. I don't deny nor diminish the message that each of those votes carries with them…

But after long and careful consideration, I cannot endorse or support their decision to express their frustration, anger and disappointment by selecting Trump as the Republican nominee for president. Trump has demonstrated neither the aforementioned qualities of principled leadership, nor offered any substantive or serious conservative policy proposals consistent with historical Republican Party platform positions.
And what are those aforementioned qualities? Things like "seriousness… sincerity, humility, empathy… durability, modesty and the absence of self-interest."
Clearly, he doesn't think Trump displays any of those.
He concluded, "I cannot endorse or support Trump for president. And I offer my prayer for a second miracle in Cleveland."
You can read his full op-ed here.
[image via Joseph Sohm/Shutterstock]
— —
Follow Josh Feldman on Twitter: @feldmaniac
Have a tip we should know? tips@mediaite.com
Josh Feldman - Senior Editor