Exclusive: Glenn Beck on #MeToo's Kavanaugh 'Witch Hunt' and the Media's Addiction to Trump Outrage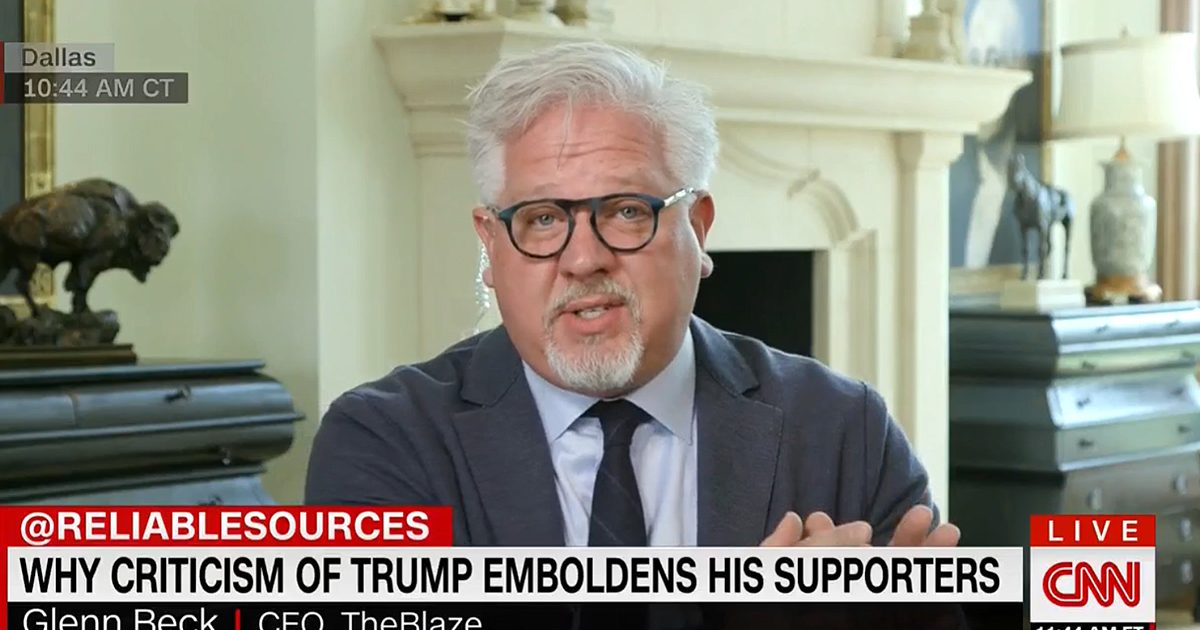 It is extremely rare for a major media figure to engage in a no-holds-barred, let-down-their-hair interview for over an hour with no commercial interruptions, but that's what conservative talk show host and founder of TheBlaze, Glenn Beck, did with me yesterday. The result was a fascinating discussion which was unique in this era for, among other things, its raw honesty and depth of analysis.
Here is that entire seventy-minute conversation from my podcast…
Part of why the interview was rather extraordinary is the unusual nature of my relationship with Beck. We share a lot of similarities in our personalities and worldview, but in many ways are quite different (unlike me, he is very religious, employs lots of people, and is a legitimate celebrity and success).
In fact, I once, after having appeared on his old Fox News TV show way back in 2009, had concluded that, based on his highly theatrical performances, he had to be at least somewhat of a fraud (something I told him to his face when we met again last year). However, with his very strong opposition to Donald Trump during the 2016 election, even after all the other conservative media titans had sold out to an obvious conman — causing him and TheBlaze enormous commercial hardship — I gained new respect and understanding for what appears to really make Beck tick.
We have done extensive interviews with each other on several occasions and, as I joked with him during this most recent version, they inevitably take on the feeling of mutually administered therapy sessions for how to deal with being a principled conservative in the age of Trump. Though this one, given that Beck has recently at least somewhat warmed to Trump (largely due, he indicates, to the overreaction of the mainstream media and the Democratic Party to the president's scandals) also took on a lot of very substantial issues, and included some significant disagreements.
One thing is for sure, we are not afraid to ask each other rather pointed questions on sensitive subjects, the likes of which very few other media personalities would ever dare to engage in with each other.
In order, here are the highlights of the interview:
Beck's first public reaction to Brett Kavanaugh's confirmation.
Why he calls the abuse allegations against Kavanaugh a "sham" and believes that much of the #MeToo movement is a "witch hunt."
How the Republican political base will likely react to the attacks on Kavanaugh in the November elections.
How the news media is addicted to outrage and ratings.
How the news media is also addicted to Trump like a drug, in a way which may facilitate his reelection.
The colossal hypocrisy of the conservative media for being largely silent on the New York Times investigation into the Trump family tax avoidance schemes, when their outrage over such a story literally would have never ended if it was about a President Hillary Clinton.
What really went into Beck's controversial decision to finally don a red MAGA hat on the air earlier this year, and whether commercial pressures played a substantial role in that call.
What Beck's biggest strategic/commercial mistake/regret was in how he dealt with the Trump phenomenon (which, due to turning off large chunks of the "conservative" audience, has caused significant cutbacks at TheBlaze).
What each of us make of the fact that many of our fellow "Never Trump" conservatives chose to not support/defend Brett Kavanaugh, possibly because they were afraid of alienating their new liberal fans and media platforms.
My biggest takeaway from the discussion on an individual level is that Beck appears to be in a much better place personally than he was a year ago. Like a man who has improbably survived a horrible storm and now sees some clearing skies on the horizon, he appears to be very optimistic about the near future of his media outlets, though still pessimistic about the perils which lay ahead for the country as a whole.
I hope he is somehow able to navigate what could be six more years of the Trump era without completely losing his fortune, mind, or principles. For a litany of reasons, it currently feels like his chances of achieving that are a whole lot better than mine.
John Ziegler hosts a weekly podcast focusing on news media issues and is documentary filmmaker. You can follow him on Twitter at @ZigManFreud  or email him at johnz@mediaite.com
This is an opinion piece. The views expressed in this article are those of just the author.