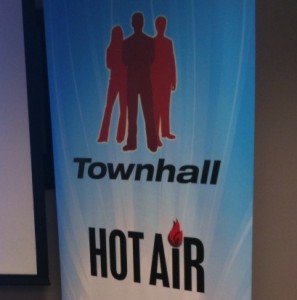 CPAC hasn't even officially started and already its making news. Mediaite has learned that leading center-right web site Hot Air has been acquired by Salem Communications for an undisclosed sum. Sources close to the deal claim that Michelle Malkin, the conservative pundit and sole owner of Hot Air, has been in talks with Salem for some time, but the announcement was timed to coincide with the Conservative Political Action Conference, which opens tomorrow in Washington D.C.
Hot Air is one of the biggest, most influential conservative sites on the Web and was launched on April 24, 2006, with Michelle Malkin as founder/CEO (though she remains editorially focused on her own blog MichelleMalkin.com and her own writing and television appearances.) Hot Air is managed on a day-to-day basis by editors Ed Morrissey and the mysterious AllahPundit, who are reported to be part of the deal in the sale of to Salem, and absolutely essential to the core value of Hot Air. We are told that, from a user's perspective, Hot Air will remain the same despite the change in ownership.
Last Fall, Mediaite cited Hot Air as one the Top 25 most influential blogs on the Internet. This is what we had to say at the time:
As Mediaite's Tommy Christopher, a personal friend of Morrissey's, wrote in the preface of a recent interview with him, Morrissey "doesn't jump on every right-wing meme that comes along, which makes the battles he does choose that much more resonant," which is as true of his Hot Air stewardship as it was of his earlier work. At Captain's Quarters, he made a name for himself mixing passion with nuance, dissecting what he saw as bad arguments with a scalpel. It didn't hurt that he had a hand in taking down the Canadian government, thanks to a big scoop on a scandal plaguing the ruling Liberal Party that Canadian news outlets were gagged from reporting. All this while working full-time as a call center manager.

AllahPundit is a shadowier figure; in an era when most bloggers treat their names like precious branding manna, his insistence on keeping a pseudonym has an anachronistic, early 2000s feel to it. Like Morrissey, he made his name on a possibly election-tipping scandal — he was one of the small handful of conservative bloggers whose investigative work led CBS to repudiate a set of documents of uncertain authenticity that were critical of Bush's National Guard service record. At Hot Air as before, he distinguishes himself from the often strident political blogosphere by maintaining a sense of humor and displaying a keen wit.
Salem Communication defines itself as a leading U.S. radio broadcaster, Internet content provider, and magazine and book publisher targeting audiences interested in Christian and family-themed content and conservative values. Perhaps their most relevant property to this transaction is Townhall.com which claims itself to be the #1 conservative website. The "About Us" section of its website claims "Townhall.com pulls together political commentary and analysis from over 100 leading columnists and opinion leaders, research from 100 partner organizations, conservative talk-radio and a community of millions of grassroots conservatives."
Sources claim that are no plans to merge either operations or editorial efforts of Hot Air and Townhall, however it makes sense that one might begin to see much more cross-promotion between the two sites now that they are both part of the Salem family.
Have a tip we should know? tips@mediaite.com