Explicit Image Of S.E. Cupp (It's A Fake) In Hustler Magazine Sparks Outrage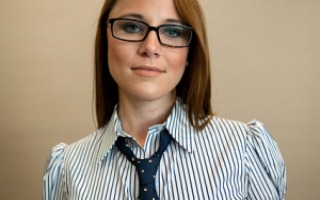 New York Daily News columnist S.E. Cupp is the subject of a tasteless photoshop job in a recent print issue of Hustler Magazine. The image below depicts Cupp engaging in a sexual act under the headline "celebrity fantasy."
RELATED: S.E. Cupp Takes On The Daily Show Co-Creator For Saying Palin's Praying 'Does Scare People'
The piece in Hustler is accompanied by a disclaimer that makes it clear no image of Cupp performing this act exists and this image is for intended for "fantasy" purposes.
No such picture of S.E. Cupp actually exists. This composite fantasy is altered from the original for our imagination, does not depict reality, and is not to be taken seriously for any purpose.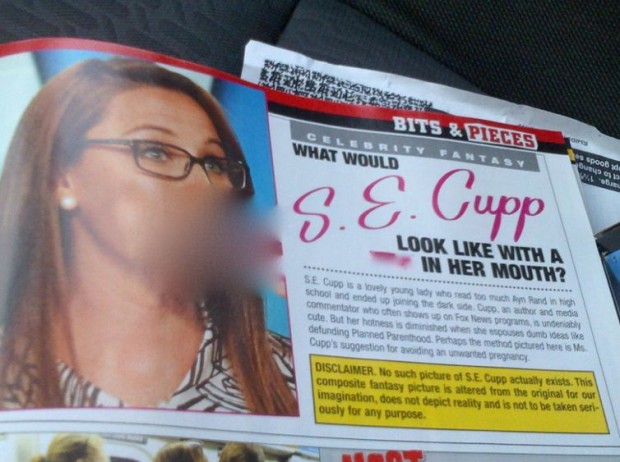 I suppose there is room for this to be interpreted as a measure of flattery. After all, Hustler goes so far as to describe Cupp as a "celebrity." That's about where the flattery ends.
The Hustler piece veers into politics and reflects a lack of understanding on the intricacies of Cupp's political philosophy and her career as a pundit. But, as the image above depicts, notable commentary on politics is really not what they do:
S.E. Cupp is a lovely young lady who read too much Ayn Rand in high school and ended up joining the dark side. Cupp, an author and media commentator who often shows up on Fox News programs, is undeniably cute. But her hotness is diminished when she espouses dumb ideas like defunding Planned Parenthood. Perhaps the method pictured here is Ms. Cupp's suggestion for avoiding an unwanted pregnancy.
Are there a shortage of young women these days willing to "model" for Hustler that they have to Photoshop conservative pundits? If so, perhaps Cupp's philosophy is winning the day and there is hope for the future.
Perhaps the saddest display of inaccuracy in this piece is that they say Cupp regularly appears on "Fox News programs." She does, but only occasionally – she appears with far more frequency on MSNBC. For being such fans of Cupp, one would think Hustler's editorial staff would invest a few minutes to learn about her career before putting words or anything else in her mouth.
UPDATE: Cupp called into Glenn Beck's radio program and issued a statement on the controversy. "It will be out there forever," said Cupp. "The fact that I work very hard and I'm an ivy leage educated woman with a pretty good job doesn't matter when you look at a photo like this."
She wondered whether there would be significant outrage if this magazine had done something similar to Rep. Nancy Pelosi (D-CA) or First Lady Michelle Obama. Cupp said that Hustler's honesty, saying they disagree with her politically and therefore she deserves a phallus in her mouth, was refreshing.
Watch S.E. Cupp talk to Glenn Beck below:
h/t The Blaze
Have a tip we should know? tips@mediaite.com