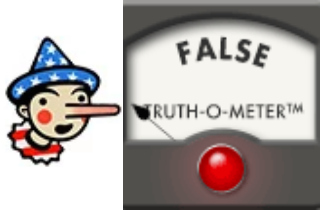 Last week Former Vice President Dick Cheney volubly defended the CIA's torture funplex enhanced interrogation techniques performed under his administration. In an interview with Fox's Bret Baier and then more at length to Chuck Todd on Meet the Press he made numerous arguments in defense of the torture program, none of which are testing well with the fact checkers — not surprising, given that he hadn't even read the Senate Intelligence Committee's report for at least one of them.
First PolitiFact rated Cheney's claim that terrorists were not covered by the Geneva Convention "mostly false," writing:
Cheney has a point that unlawful combatants are not afforded as high a level of protection as prisoners of war or civilians. However, his comment glosses over the fact that unlawful combatants are still accorded a minimum degree of protection, including a ban on "violence to life and person, in particular murder of all kinds, mutilation, cruel treatment and torture," and "outrages upon personal dignity, in particular humiliating and degrading treatment," both of which have been validated by the Supreme Court.
PunditFact (a related venture) next called Cheney's claim that Saddam Hussein had a decade-long tie to al Qaida "entirely false," just short of their worst rating of "Pants on Fire," writing:
"Two comprehensive, high-level government reports largely refute that statement. That includes one Pentagon study that relied on a trove of secret Iraqi government documents that fell into American hands after the invasion."
RELATED: What Cheney's Refusal to Confront 'Wrongfully Detained' Prisoners Tells Us About the Torture Program
Cheney also refuted an argument of Todd's — roughly that waterboarding sure was a crime when we prosecuted Japanese soldiers for it after World War II — by arguing that we actually pursued them for a bunch of other, worse atrocities.
Thursday morning Washington Post fact checker Glenn Kessler gave that argument three Pinocchios (out of four), calling it an "excellent example of political misdirection." Kessler concluded:
"Cheney dismissed too cavalierly Todd's question about the prosecution of Japanese soldiers for waterboarding. One could quibble about whether these practices were exactly like the techniques practiced by CIA interrogators. But Todd raised a legitimate question and, contrary to Cheney's assertion, waterboarding was an important charge in a number of the lesser-profile cases. Moreover, waterboarding also resulted in at least one court martial during the Vietnam War."
FWIW, none of these got into the true swamps of Cheney's anti-logic, in which the acts committed failed to meet the standards of torture established specifically to allow the acts.
[Image via screengrab]
——
>> Follow Evan McMurry (@evanmcmurry) on Twitter
Have a tip we should know? tips@mediaite.com