Fact vs. Fiction: Media Continues To Mislead On Economy's Health, GOP Compromise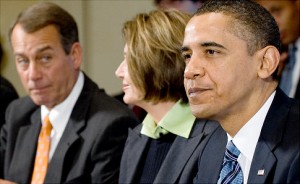 "Ninety-nine percent of the failures come from people who have the habit of making excuses." – George Washington Carver
Inside the Beltway, excuses are more the rage than the Harlem Shake these days. As we've seen, the sequester has put finger-pointing back on full display, with leadership is short supply.
Leading the way in this regard once again is the President, who has completely shifted his blame-Bush mantra to blame-Congress over the sequester. In short, Mr. Obama claims (A) the GOP is unwilling to compromise on taxes, and (B) the effects of the sequester will blunt momentum of a good economy we were on the verge of finally enjoying.
That said, here is a current snapshot of the economy Mr. Obama currently resides over:
GDP is growing at 0.1 percent (four percent GDP growth is considered healthy). Overall, U.S. GDP growth in 2012 (2.2 percent) is ranked 122nd in the world.
In January, household incomes dropped to their lowest level in 20 years.
Unemployment has climbed to 7.9 percent as more discouraged people continue to stop looking for work altogether. Keeping in mind the poor economy Mr. Obama inherited in 2009 (so we'll leave that year out, along with 2010), monthly job creation in 2011 and 2012 was still consistently below what is needed to keep up with population growth (about 150,000 jobs per month created vs. 200,000 per month needed).
Despite what many are calling an energy boom, gas prices are up 13 percent ($3.73 per gallon) in the past month (more on that in a moment).
The reason these five economic indicators are cited is because they run concurrent to what CNN's Ali Velshi stated after the sequester became reality on Friday:
"We got unemployment edging down, jobs being created, very low interest rates, and an energy boom," explained Velshi. "We could be really moving to the top of the global pile in terms of economic activity, and this sort of thing [sequester] is like the government sticking its foot out just as you're gaining speed as you're running."
Velshi would later modify his comment (via Twitter) by stating the U.S. is in a "difficult but promising time" during a public spat with Bretibart.com columnist John Nolte. The Twitter war began after Nolte exaggerated Velshi's overall feeling on the economy (Nolte concluded in a column that Velshi implied the economy was booming; Velshi said no such thing).
Regardless, there's one thing that can be counted on for the rest of 2013 from the usual suspects in the media: Any poor economic news, like the kind of reports we received B.S. (before sequester), will be connected to said sequester when taking the President's latest perspective into account:
"So every time that we get a piece of economic news over the next month, next two months, next six months, as long as the sequester's in place we'll know that that economic news could have been better if Congress had not failed to act."
With the blame-Bush card played out following the election, the President–who has shown zero inclination to make any meaningful spending cuts or make any reforms to unsustainable entitlements—needs another excuse for his underperforming economic policies. He gets that excuse with the sequester, which according to Bob Woodward (the objective reporter closest to Mr. Obama and Republicans during the 2011 Fiscal Cliff negotiations) was the President's idea in the first place. But now the President is trying to add new revenue (tax hikes) to the equation…
One problem: Republicans already compromised on tax hikes during the December 2012 Fiscal Cliff negotiations to the tune of $620 billion in new revenues…and did so without any spending cuts from the President in return.
Of course, this not-so-small fact was lost on Kathleen Parker on Meet the Press Sunday, where she stated the sequester debacle was mostly due to the following:
"The Republicans cannot give on taxes, they simply can't," she said. "It would damage their brand permanently."
In other words, that $620 billion tax hike the President got just two months ago just mentioned above? Never happened. Ms. Parker doesn't bring it up. Mr. Obama doesn't either. And it still hasn't been revealed exactly where the revenue from those tax hikes is being allocated.
A Gallup poll relaesed last month shows only 41 percent of Americans agree with the President's position on taxes, 39 percent approve of the President's handling of the economy and 31 percent give a thumbs up on his managing of the deficit.
If Mr. Obama thinks he was elected due to his economic prowess, it isn't indicated in these numbers.
Almost non-existent GDP growth?
Below par job creation?
Incomes falling to 20-year lows?
Will the President ever take responsibility for any of this mess?
Will the press ever challenge a narrative that still somehow includes "Republicans will never compromise on taxes", when they already have?
If the first 50 months of this Presidency is any indication, that's now a rhetorical question.
Follow Joe Concha on Twitter @ConchSports
Have a tip we should know? tips@mediaite.com