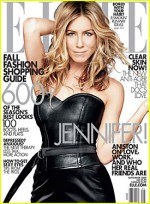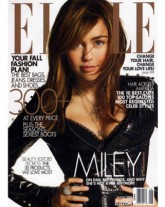 The September Issue: it's not just the title of the highly anticipated R.J Cutler documentary about Anna Wintour, it's also what every magazine-loving fashionista anxiously awaits. September enters our mailboxes like a warm Thanksgiving feast — it's bicep-flexing heft comes packed with Chanel's newest ads, Testino's freshest fashion shoots, and Glenda B.'s most thoughtful Fall advice — a welcome antidote to the malnourished August issue. And of course, there's the cover: the ultimate seal of approval for the model who lands it. But this year? Not so much.
Judging from Elle's September cover, which features Jennifer Aniston clad in black leather (last month anyone?), it's beginning to look a lot like August. Magazine lovers beware: your September feast will be anything but.
In what is widely considered the most important month in both fashion and magazines, ad sales have dropped dramatically: Harper's Bazaar's ad pages are down over 20%. W has estimated a loss of 53% of its ad pages. Even Anna's issue is losing weight – Vogue has experienced a 36.7% loss to be exact (these numbers were taken from the Ad Page Totals at WWD.com)
But ad pages aren't the only thing September is hungering for. Where is the couture? Where is Uncle Karl's newest tweed? Or Lanvin's sexy fall dress? Why are we seeing Jennifer Aniston –yawn –in a black strapless leather bustier and black silk pants, when we saw Miley in leather and lace just last month? Joe Zee, my love, where are you?
WAKE UP! It's SEPTEMBER, in case you have forgotten, and without high fashion ads itching our scratch, readers will need more than last month's left overs.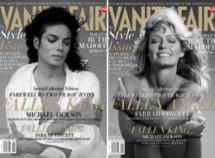 Other soon to be disappointments include, but may not be limited to: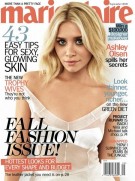 Vanity Fair's sugar sweet, yet seemingly sell-out-ish choice to memorialize this year's two biggest celebrity deaths by recycling images of Farrah and Michael
Marie Claire's cover featuring Ashley Olsen,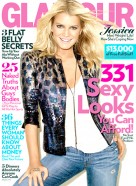 wearing a gorgeous, yet unoriginal, white see-thru frock and sporting her usual nose-narrowing smirk
Glamour's cover girl, Jessica Simpson (aka, Marie Claire's January Cover Girl and Vanity Fair's June Cover Girl) decked out in slightly ripped denim – shocking – something sparkly – even more shocking – and too much blue eye makeup.
Follow Ruthie Friedlander on Twitter!
Have a tip we should know? tips@mediaite.com