'False': Kellyanne Conway Hits Back at Story CNN Turned Down Interview of Her Over 'Credibility'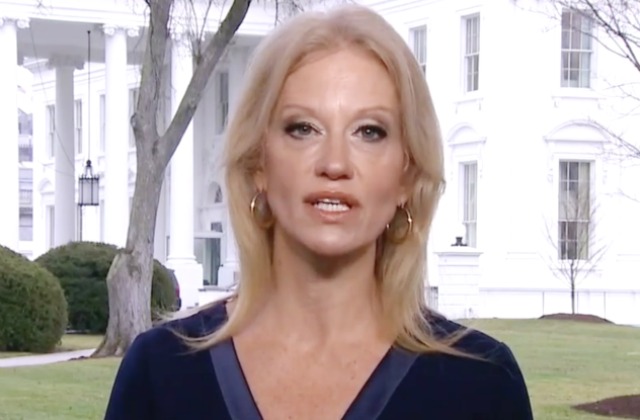 It was reported by the New York Times on Sunday that CNN declined an offer for White House counselor Kellyanne Conway to appear as an interview guest on State of the Union in place of Vice President Mike Pence. The reason given over this refusal was the network apparently had concerns about Conway's "credibility."
Well, shortly after we at Mediaite published a piece on this story, Conway took to Twitter to refute those claims:
False. I could do no live Sunday shows this week BC of family. Plus, I was invited onto CNN today & tomorrow. CNN Brass on those emails https://t.co/LVOUWIytLK

— Kellyanne Conway (@KellyannePolls) February 6, 2017
According to Conway, she's claiming that she's been invited to appear on CNN this week while also stating that CNN executives are aware of these invites.
Conway has come under fire of late over her 'Bowling Green massacre" comments during an MSNBC interview last week, a claim she apparently made prior to the MSNBC spot in a conversation with Cosmopolitan.
UPDATE 1:10 PM ET: CNN's PR account responded back to Conway on Twitter, stating that Conway was offered as a guest on State of the Union and they passed.
[image via screengrab]
–
Follow Justin Baragona on Twitter: @justinbaragona
Have a tip we should know? [email protected]
---