Family Research Council Prez Tony Perkins Pushes for GOP to Embrace 'Conversion Therapy'
The practice has been widely condemned by medical professionals.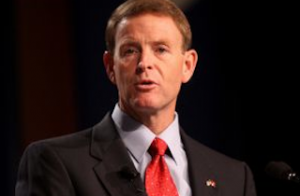 Family Research Council (FRC) President Tony Perkins has pushed to add language supporting so-called "conversion therapy" to the Republican platform.
Perkins is both an RNC delegate representing Louisiana and an outspoken opponent of LGBT rights. The controversial practice, also known as "reparative therapy," of training or educating children to become cisgender and heterosexual has been widely condemned and discredited by medical professionals.
"We support the right of parents to determine the proper treatment or therapy, for their minor children," read the amendment offered by Perkins to the subcommittee on healthcare, education, and crime. According to Time's Zeke Miller, Perkins had originally crafted even more explicit language supporting conversion therapy. After consultation with RNC officials, the text was softened.
The New Civil Rights Movement notes:
Several states have banned the practice among minors, and at least one court has labeled the practice consumer fraud. The American Medical Association and most other multi-national medical organizations have denounced the practice as well.
Platform committee votes to strip LGBT language in favor of 'All lives matter.' Amendment is approved. pic.twitter.com/esqhrXH15A

— Zeke Miller (@ZekeJMiller) July 12, 2016
Miller also reported that the subcommittee passed language strengthening the party's opposition to marriage equality. "In this platform, we do not accept the Supreme Court's redefinition of marriage and we urge its reversal, whether through judicial reconsideration or a constitutional amendment returning control over marriage to the States," the amendment read in part.
Rachel Hoff, the first openly gay person to sit on the Republican Party's Platform Committee, had tried and failed to get the party to adopt language in support of LGBT Americans. Miller writes:
[Hoff] introduced an amendment to rewrite the GOP's language on same-sex marriage to allow for a range of view-points on the issue, as opposed to the strong rejecting in the initial draft. "All I ask today is that you include me and people like me," she said, fighting back tears. Hoff's amendment failed by a roughly 3-1 margin.
Hoff offers amendment to test "Just how far this committee is willing to go to avoid a single positive reference to the LGBT community"

— Zeke Miller (@ZekeJMiller) July 12, 2016
Have a tip we should know? tips@mediaite.com