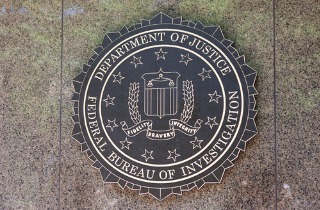 FBI Director James Comey wrote a letter to the editor printed in The New York Times today defending the recently revealed operation in which an agent posed as an AP reporter in order to catch a suspect. The bureau set up a fake version of the Seattle Times website (which the paper was none to happy about) in order to catch a suspect who had been making bomb threats to a local school.
The New York Times ran an editorial this week calling out the "deceptions" of the FBI and wrote, "Law enforcement authorities regularly rely on sting operations and other deceptive tactics." In his letter to the Times, Comey issues a strong rebuttal and writes, "We do use deception at times to catch crooks, but we are acting responsibly and legally."
Comey said that the news article in question was never actually "published" and the suspect was the only one who interacted with the agent posing as an AP reporter. And he goes on to defend the wisdom of that case:
That technique was proper and appropriate under Justice Department and F.B.I. guidelines at the time. Today, the use of such an unusual technique would probably require higher level approvals than in 2007, but it would still be lawful and, in a rare case, appropriate…

Every undercover operation involves "deception," which has long been a critical tool in fighting crime. The F.B.I.'s use of such techniques is subject to close oversight, both internally and by the courts that review our work.
You can read his full letter here.
[h/t CNN]
[image via Mark Van Scyoc/Shutterstock]
— —
Follow Josh Feldman on Twitter: @feldmaniac
Have a tip we should know? [email protected]
Josh Feldman - Senior Editor