'No Charges Are Appropriate in This Case': FBI Director Reveals Findings in Clinton Email Probe
'No Charges Are Appropriate in This Case': FBI Dir. Reveals Findings in Clinton Email Probe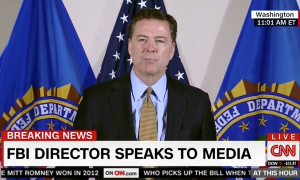 At an unexpected press conference Tuesday morning, FBI Director James Comey announced that he would not be recommending charges to the Justice Department following an investigation into Hillary Clinton's use of a personal email system.
According to Comey, Secretary Clinton "used several different servers," and "numerous mobile devices to send and receive email," during her time with the State Department. Comey identified the "painstaking process" by his staff in the investigation — an "apolitical" effort, he was careful to note to the gathered press — and said that he has "reasonable confidence" there was no intentional misconduct on the part of Secretary Clinton herself.
While Comey admitted that they did not find clear evidence of wrongdoing, "there is evidence," that the Clinton staff was "extremely careless in their handling of classified information," he continued, while discussing the findings of the investigation.
On Saturday, the FBI interviewed Clinton in Washington D.C. for 3.5 hours, a step in the investigation that the former Secretary of State said she was "eager" to do. "It was something I had offered to do since last August," she said Saturday afternoon.
The announcement comes on the same day that the former Secretary of State is scheduled to fly to North Carolina on board Air Force One to campaign with President Barack Obama. The event Tuesday afternoon marks the President's first event alongside Clinton, who he formally endorsed last month.
While the FBI's investigation into Clinton's use of a private email server has been deemed a "security inquiry" by the Democratic presumptive nominee herself, Comey has refuted the simplicity of those claims in the past. "We're conducting an investigation. That's what we do," the FBI Director said in May.
The FBI became involved with the case in August 2015 with the aim of determining if any criminal activity occurred regarding the personal email server that had been installed while Clinton was Secretary of State. The FBI interviewed several Clinton aides in the process, and the Justice Department issue immunity to Bryan Pagliano, the staffer who set up the server at Clinton's Chappaqua home in 2009.
Clinton maintained that she never knowingly sent or received classified information during her time in the State Department.
Watch the above remarks from FBI Director James Comey.
—
J.D. Durkin (@jiveDurkey) is an editorial producer and columnist at Mediaite.
[image via screengrab]
Have a tip we should know? tips@mediaite.com