FBI Thwarts Domestic Terror Plot In Which Anti-Muslim Group Planned A 'Bloodbath'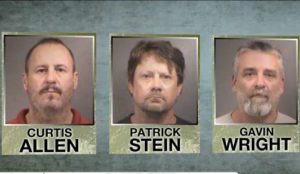 According the USA Today, three members of an anti-Muslim group known as the Crusaders had planned to bomb an apartment complex and mosque in Garden City the day after Election Day. Per the FBI, they did not want to interfere with the election.
The group was targeting Somali immigrants in the area and had been monitored for months by law enforcement through a paid informant. However, they moved in on the Crusaders earlier this week following a domestic violence incident involving one of the members and his girlfriend. She ended up showing police the group's weapons and helped disclose their plans.
One of the men, Patrick Eugene Stein, was recorded by authorities referring to Somalians as "cockroaches" and that the country needed a "wake up."
According to a federal complaint released after the arrests, Stein was surreptitiously taped in June referring to the Somalis as "cockroaches" and saying "the only (expletive) way this country's ever going to get turned around is it will be a bloodbath and it will be a nasty, messy (expletive)."

"Unless a lot more people in this country wake up and smell the (expletive) coffee and decide they want this country back … we might be too late. If they do wake up … I think we can get it done. But it ain't going to be nothing nice about it," Stein was recorded as saying, according to the federal affidavit.
Following the news that the FBI had successfully stopped the planned domestic terror attack on Muslim-Americans, Democratic presidential nominee Hillary Clinton released a statement applauding members of law enforcement.
"I applaud law enforcement for detecting and disrupting a highly disturbing terror plot in Kansas, in which men were allegedly planning an elaborate attack directed at Muslim Americans, including directing four car bombs at an apartment complex housing more than 100 men, women, and children. This plot is an affront to all Americans. We all must stand firm in fighting terror and rejecting hateful and divisive rhetoric–and we must do it together. According to the FBI, their eight-month investigation uncovered 'a hidden culture of hatred and violence.' We should all be grateful to law enforcement for preventing this plot from being carried out, and as President, I will work with law enforcement at all levels and with our communities to make sure we have the tools we need to prevent both domestic and international terrorist threats."
Police state they found nearly a metric ton of ammunition in one of the plotter's house.
[image via screengrab]
–
Follow Justin Baragona on Twitter: @justinbaragona
Have a tip we should know? tips@mediaite.com