FCC Chairman Vows to Give Candidates Equal TV Time Ahead of Trump's SNL Appearance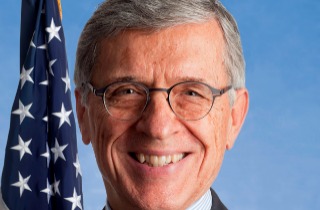 Between Hillary Clinton's recent appearance and Donald Trump's upcoming hosting gig, Saturday Night Live has prompted the head of the FCC to promise that the equal opportunity clause will allow for all candidates to receive their fair share of airtime.
When Clinton appeared for the segment where she gave herself a pep talk as Val the Bartender, NBC was required to tell the Federal Communications Commission that she received approximately three minutes of free time to promote herself.
With Trump hosting the show (and presumably taking part in a few skits), National Journal pointed out that the FCC will be legally obligated to make sure that NBC and its affiliates provide opportunities for the other candidates for every moment Trump's appearance could entail. All things considered, that could come out to around half an hour.
"The rules are pretty clear. Rules are rules," FCC Chair­man Tom Wheel­er promised re­port­ers yesterday. "I hope that we have de­veloped a repu­ta­tion as folks who en­force the rules."
While unscripted news appearances are under different legal terms than scripted ones like the comedy sketch show, the FCC requires broad­cast television and radio stations to "afford equal opportunities to all other such candidates for that office." Lawrence Lessig, who is also running for president on the Democratic side, has already demanded NBC give him with time for an appearance, and Meredith McGehee of the Campaign Legal Center has discussed the legal complications to The Washington Post.
"There have been enough instances where you have seen a walk-on at something like 'Saturday Night Live' where I don't think the equal opportunity was claimed," McGehee said. "the boundaries of what triggers equal opportunity have grown over the years."
[h/t HotAir]
[Image via wikimedia commons]
— —
>> Follow Ken Meyer (@KenMeyer91) on Twitter
Have a tip we should know? tips@mediaite.com