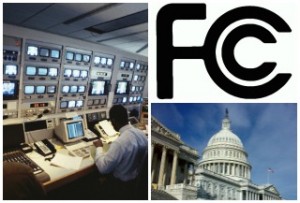 The Federal Communications Commission has put a controversial study of U.S. newsrooms on hold. An FCC spokesman said in a statement [PDF] today that "media owners and journalists will no longer be asked to participate" in the study after a number of Congressman and media outlets publicly decried it.
The study was brought to public attention this past week by FCC Commissioner Ajit Pai, who said last night on Fox News that the government "doesn't have a place in the newsroom." The study was meant to research "barriers" to media access and how news organizations deal with "critically important news" stories in the public interest.
RELATED: Why Did the FCC's Plan to Invade Newsrooms Only Inspire 'Conservative Outcry'?
The head of the FCC, Tom Wheeler, assured members of Congress yesterday that they would tailor the study to address the concerns, but now it's being shelved outright for now.
FCC Spokesperson Sharmon Gilson noted in today's statement that Wheeler understood some of the questions "overstepped the bounds of what is required," and any new study they come up with will not "seek" involvement from news organizations.
"To be clear, media owners and journalists will no longer be asked to participate in the Columbia, S.C. pilot study. The pilot will not be undertaken until a new study design is final. Any subsequent market
studies conducted by the FCC, if determined necessary, will not seek participation from or include questions for media owners, news directors or reporters."
Gilson also insists the FCC is never in the business of getting in the way of freedom of the press.
[photo via Shutterstock, Bjoertvedt]
— —
Follow Josh Feldman on Twitter: @feldmaniac
Have a tip we should know? tips@mediaite.com
Josh Feldman - Senior Editor