Federal Judge Rules 10-Year-Old Sarah Murnaghan Can Be Added To Adult Transplant List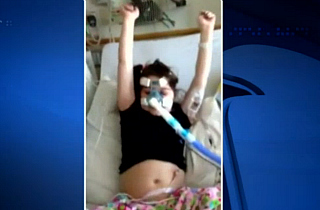 It looks as though the story of ten-year-old Sarah Murnaghan might have a happy ending.
A federal judge ruled this afternoon that the young girl in need of a lung transplant can be added to the adult donor list, granting the family's request for a temporary restraining order on the Health and Human Services "Under 12" rule that prevents children under the age of 12, like Murnaghan, from being eligible to receive a lung transplant from an adult.

Murnaghan has been hospitalized for several months at a Philadelphia hospital, suffering from end-stage cystic fibrosis. Her story grabbed national headlines when, with the help of several lawmakers, the family implored Health and Human Services Secretary Kathleen Sebelius to grant a stay in the law and help the dying girl receive a lung transplant.
Sebelius told the family on Tuesday that she cannot intervene in such transplant decisions, and cited similar cases in the same hospital which would make it inappropriate for her to grant an exception if she had the ability to do so. The federal judge who ruled in favor of the Murnaghans has said he will grant the temporary restraining order to any other child in the same judicial district who brings their case before the court.
Watch the 10-year-old Sarah celebrate in her hospital bed upon learning the good news, via NBC Philly:
UPDATE: The Murnaghans' lawyer issued the following statement:
"Over the past few days, our team of attorneys at Pepper Hamilton worked quickly to prepare the arguments and evidence that we presented to Judge Baylson today in the case of 10-year-old Sarah Murnaghan. At the conclusion of the hearing, Judge Baylson granted atemporary restraining order (TRO) in favor of Sarah. It does not ensure that Sarah will get a new set of lungs, but that she will finally have a chance to be fairly considered in the existing system for allocating donated lungs. We are gratified with this significant progress and hope that it means that Sarah can get a new set of lungs and will soon be out of the hospital. Our thoughts and prayers are with Sarah.

In court today, we heard a wonderful doctor from the Children's Hospital of Philadelphia testify about the improvement over the last 20 years in the outcomes of lung transplantation surgery, particularly for children. We understand that this is also true with other vital organs. There truly is hope in medicine. But the doctors need donated organs in order to give new life to patients, and there remains a scarcity of all types of organs for donation. So we hope that the media attention to this case will remind us all to become organ donors and, if we face the tragedy of the loss of a loved one, consider a directed donation of their organs.

As we look forward, it's important to remember that the ruling is temporary. The Judge has scheduled a hearing for June 14 to decide whether to continue the ruling."
— —
>> Follow Andrew Kirell (@AndrewKirell) on Twitter
Have a tip we should know? tips@mediaite.com