Fight Between Immigration Activist and Mayor Escalates to Shouting Match with Racism Accusations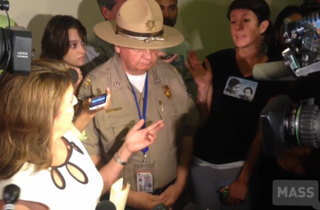 A closed-door meeting regarding the migrant children gathered along the US border led to a dramatic confrontation between representatives of Massachusetts' immigrant community and the mayor of Lynn, Mass.
A week ago, Massachusetts governor Deval Patrick announced that the state could possibly host some of the thousands of children; an announcement met with resistance from the state's small Republican contingent. House Minority Leader Brad Jones convened a private, fact-finding meeting to discuss the ramifications of the decision, but while the attendees said they had a "productive" meeting, that was definitely not the sentiment of the pro-immigration activists convened outside Jones's office.
In particular, a discussion between Lynn mayor Judith Kennedy, who attended the meeting, and Patricia Montes, the president of local advocacy group Centro Presente, grew incredibly heated in the presence of cameras. Reports MassLive:
"I am trying to let you know that the immigrant community wants to have a conversation about this topic. But you guys are having a meeting in closed doors," Montes said.

"You see that family here," said Montes pointing to a family behind her.

"They are not criminals. You are talking about them," she said.

Kennedy became furious and strongly objected to her comments.

"Wait a minute, wait a minute, tell me when I ever accused them of being criminals," she said.

Kennedy said that she has never called them criminals and that she is only looking out for the financial wellbeing of Lynn.

From there the conversation escalated.
Speaking to reporters soon afterwards, Kennedy said that race wasn't preventing her from welcoming refugee children, but money was: "If people understood that this from the city of Lynn's perspective is a purely economic issue; when I have an increase of 10 percent in my school system of new kids that's more resources that I have to direct to our school system. Lynn doesn't have that money."
Watch below via MassLive:

[MassLive.com]
[Image via screenshot]
—
>> Follow Tina Nguyen (@Tina_Nguyen) on Twitter
Have a tip we should know? tips@mediaite.com