Finally, an Answer to the Age-Old Question: Why Is John McCain on TV So Much?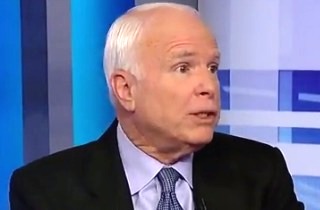 Senator John McCain is on TV a lot. No, seriously, a lot. Last night, after President Obama's speech, McCain appeared on CNN to react. Then he appeared on MSNBC. Then he appeared on Fox News. And, of course, he's a regular mainstay on the Sunday news shows. And by that, I mean since 2009, he has been the number one most-booked Sunday show guest, period. Which begs the question: um, why? Surely there must be other people free to appear on television, right?
Well, now we finally have an answer to these questions. Washington Post media critic Erik Wemple reached out to CNN to get to the bottom of this, and ended up getting an explanation for TV news' McCainmania from CNN Washington Bureau Chief Sam Feist:
"He has appeared for decades on cable news programs, network news programs. He's articulate, he knows what he's talking about and he has strong positions. He represents the views of millions and he represents them effectively. He's a veteran and is loved by many veterans and he's not just a senator; he's a former Republican presidential nominee and a war hero."
In addition, McCain, "remains a strong and important voice in American politics and a relevant voice in American politics."
Well, there you have it.
Now, in all fairness to McCain, he appears to be somewhat aware of his status as a TV news celebrity, as he acknowledged when he gave Chuck Todd some tips on how to prep for Meet the Press.
(Sidenote: if he's gonna be on TV so much anyway, maybe McCain should just get his own weekly show. Title suggestion: Plain McCain.)
[image via screengrab]
— —
Follow Josh Feldman on Twitter: @feldmaniac
Have a tip we should know? tips@mediaite.com
Josh Feldman - Senior Editor