First Lady Michelle Obama Blasted For Helping Little Girl That 1st Dog Sunny Obama Knocked Over
Christopher: Michelle Obama Blasted For Helping Little Girl That 1st Dog Sunny Obama Knocked Over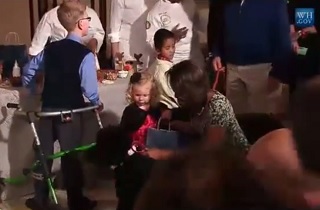 At a White House event Wednesday afternoon to unveil this year's holiday decorations, the White House's official videographer caught second First Dog Sunny Obama on camera knocking over 2 year-old Ashtyn Gardner in a fit of exuberance, as well as First Lady Michelle Obama immediately helping the girl up. While the story has gone viral as an adorable unscripted moment, one conservative outlet took the opportunity to take a shot at the First Lady as the worst monster since Cruella DeVille.
While other media outlets gave the moment the requisitely light human interest treatment, the conservative Washington Times reported on the moment with the headline "First Dog Sunny knocks down toddler, Michelle Obama yanks leash."
Let's have a look at this horrible leash-yanking:
The Washington Times thought better of their headline at some point, and changed it to "First dog Sunny gets a little frisky with toddler at White House holiday event." Their article, though, still highlights the alleged leash-yankage, and leaves it to the reader to decide what role this had in the felling of little Ashtyn:
New first dog Sunny got a little frisky at the White House.

First lady Michelle Obama yanked on the new pup's leash as Ashtyn Gardner, 2, from Mobile, Ala., lost her balance while greeting the Portuguese Water Dog.
The faces of horrified chefs can be seen in the background.
By contrast, here's how The Hill reported on Mrs. Obama's role:
The 1-year-old puppy tried to escape her handler, knocking down 2-year-old Ashtyn Gardner in the process. The little girl got up quickly, and her dad, John, said she was fine.

Michelle Obama was present and helped Ashytn to her feet. The first lady later checked on the little girl again and gave her a hug.
This is just further evidence that Michelle Obama Derangement Syndrome makes Obama Derangement Syndrome look like an OFA rally.
Have a tip we should know? tips@mediaite.com