Florida Accidentally Outlaws Cell Phones, Computers: 'Legislators Don't Want Phones Smarter Than They Are'
Fla. Accidentally Outlaws Cell Phones, Computers: 'Legislators Don't Want Phones Smarter Than They Are'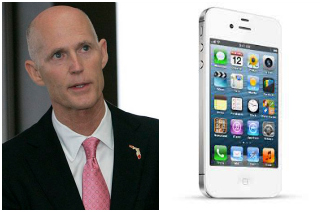 We need an app for writing better laws.
A current lawsuit against the state of Florida alleges that a law banning slot machines was written so quickly and sloppily that it actually outlaws any "system or network of devices" that may be used for a game of chance, a provision that could be read to cover any form of smart phones and computers.
The law was passed in April by Governor Rick Scott following a scandal involving Lieutenant Governor Jennifer Carroll, in which a charity related to Carroll was alleged to be an internet gambling front, forcing the LG's resignation. The law was written broadly enough that it immediately shuttered all internet cafes, including Incredible Investments LLC, which provides internet services to migrant workers.
The company is suing the state over the wording of the law. According to HuffPo Miami, the suit alleges that "the ban was essentially passed 'in a frenzy fueled by distorted judgment in the wake of a scandal that included the Lieutenant Governor's resignation' and declares it unconstitutional."
Ed Kilgore goes for the jugular:
Nice craftmanship, Florida legislature! It's bad enough that the solons couldn't figure out how to design a gaming ban that didn't close down every internet cafe in the state. But no matter how the lawsuit goes, you can probably expect some jokes about legislators who didn't want to allow phones smarter than they are. And it's another fine accomplishment for Rick Scott.
Read the full article HERE.
[h/t Huffington Post Miami]
—
>> Follow Evan McMurry (@evanmcmurry) on Twitter
Have a tip we should know? tips@mediaite.com