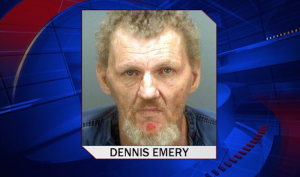 Florida man Dennis Emery shot and killed himself on Tuesday after he accidentally fired a round into his face while threatening his wife's dog.
The story, via Fox 13 News:
"He was involved in a domestic disturbance with his wife. During that disturbance he retrieves a firearm, he produces the firearm, and he threatens to shoot one of the family's animals," Pinellas Park police's Sgt. Adam Geissenberger said Tuesday.

Police say he cocked the gun, lowered the hammer, and then for some reason turned the gun around toward his face right as it fired. Based on witness statements, investigators believe it was an accident.

"It's a shame. It's a damn shame. I never figured him to be irresponsible with a handgun," next door neighbor Dallas Collins said.

Collins says Emery's wife owned 13 border collies. He says the dogs' barking was a constant problem between the couple.
According to the Tampa Bay Times, Emery, 56, had a long history of bad decisions:
Emery has had 34 contacts with Pinellas Park police since 2012, the department said. He recently was arrested three times in six days: Oct. 12 for domestic battery; Oct. 15 on charges of aggravated assault and resisting arrest; and Oct. 17 on a charge of leaving the scene of a crash. Those cases were pending at the time of his death.

State records show Emery was convicted of drunken driving in 1977; carrying a concealed weapon in 1978; and disorderly conduct and public intoxication in 1983. He was charged with domestic violence in 2013, but the case was dropped, according to records.
[h/t Gawker]
[Image via Pinellas County Sheriff's Office]
Have a tip we should know? tips@mediaite.com