Florida State Rep Mike Weinstein Goes Viral With Cheesiest Campaign Video Ever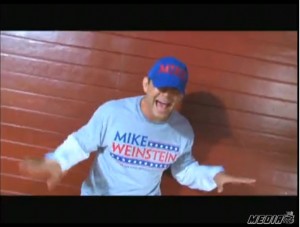 The musical fever that has secured 19 Emmy nominations for Glee has busted through the TV screen and into American politics with Florida State Representative Mike Weinstein's recently released campaign jingle and accompanying video. Unfortunately for our eyes and ears, the song-and-dance genre doesn't translate well enough outside of the hit show to garner this musical number any awards, but just enough to make it go viral.
The Daily Caller interviewed Weinstein about the video, for which his son (who goes by the stage name Scott Leigh) wrote and performed the creatively named song "Mike Weinstein." According to the article, Leigh decided to make the video to help his father target the youth vote that Republicans are finding it hard to corner. He might have overshot his demographic, however, because as the owner of a company that produces children's educational material put to song, Leigh's video panders mostly to the 8-year-old and under crowd.
Using repetition, enunciation, and simple words – the same techniques he uses when he writes children's songs – Leigh embeds facts about Weinstein and his platform into the song, and permanently into your brain. Just like you remember all the lyrics to "The Itsy Bitsy Spider" and "Frère Jacques," you will always know that Mike-Mike-Mike Weinstein is the representative for district 19, that he's committed to better education, and that he's going to fix our economy.
At some moments, it looks like that Springsteen video where a pre-Friends Courtney Cox gets pulled onstage by The Boss. At others, it resembles a heated yet high-spirited dance montage from You Got Served or its under-appreciated cousin, Step Up 2: The Streets. But at no point does it feature a cameo by Sue Sylvester, which could have turned this low budget music video into a fairly standard episode of Glee.
Have a tip we should know? tips@mediaite.com