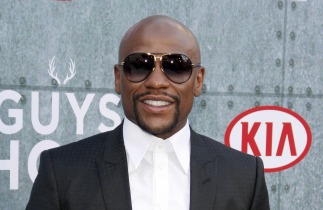 After a reported failure to comply with the rules of the World Boxing Organization, Floyd Mayweather Jr. was stripped of his title on Monday following his "fight of the century" (that some would beg to differ) with Manny Pacquiao. The decision reportedly came after Mayweather refused to pay a sanctioning fee, as well as for refusing to vacate the weight titles he kept from previous matches.
In early May, boxing fans were outraged and disappointed that the pay-pet-view match between Mayweather and Pacquino was hardly the exciting blood sport that promoters promised audiences.
When Mayweather defeated Pacquiao, he was recognized by not only the WBO, but also by the World Boxing Association (WBA) and the World Boxing Council (WBC) as the world's welterweight champ. Mayweather was given two months by the WBO to follow their eligibility rules, which required him to relinquish junior-middleweight championship titles after changing to the welterweight class for his fight with Pacquino.
When Mayweather failed to meet the July 3 deadline, the WBO released its statement:
"The WBO world championship committee is allowed no other alternative but to cease to recognize Mr. Floyd Mayweather Jr. as the WBO welterweight champion of the world and vacate his title for failing to comply with our WBO regulations of world championship contests…The WBO has the utmost respect for Floyd Mayweather Jr. and all that he has accomplished during his storied career. Mr. Mayweather has always agreed with and understood that world championships have both privileges and responsibilities and that status as WBO champion is subject to and conditioned on compliance with the WBO rules and regulations."
The Mayweather team is not taking this well. "It's a complete disgrace," Leonard Ellerbe, CEO of Mayweather Promotions, told ESPN's Dan Rafael. "Floyd will decide what, or if any, actions he will take."
In terms of the sanctioning fee, Mayweather reportedly made $220 million, which is well over enough to cover the $200,000 price tag.
According to WBO rules, Mayweather has two weeks to appeal this decision.
[h/t ESPN]
[Image via Shutterstock.com]
— —
>> Follow Ken Meyer (@KenMeyer91) on Twitter
Have a tip we should know? tips@mediaite.com