Flustered Trump Supporter Loses His Mind on CNN Panel Trying to Defend Anti-Semitic Image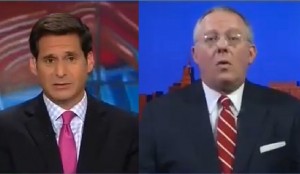 Michael Caputo had a rough go of it on CNN Monday morning trying to defend his candidate's use of a neo-Nazi-sourced image on Twitter.
Caputo, a former Trump campaign advisor, claimed that the campaign had nothing to apologize for. "This was not intended to offend anyone," he said and called it a mere "geometric image that some associate with the horrible days of Nazi Germany."
"This was an unforced error, there's no question about it, otherwise they wouldn't have changed it," he said. "But to apologize for it? I don't think so."
He then insisted that the controversy over the image, a red Star of David surrounded by dollar bills, had been "ginned up" to draw attention away from the FBI investigation into Hillary Clinton's use of a private email server. Caputo declared that almost nobody found it offensive.
When CNN's John Berman pressed him on the fact that the image had appeared on a forum trafficked by neo-Nazis, Caputo lashed out: "Do you know that? Do you know that?"
"Yes!" Berman replied.
Caputo then groused that the Trump social media team was basically helpless in determining which images got tweeted out from Donald Trump's personal official account, since the camp was "deluged at all times [with] incoming images from people who make them who want the campaign to use them."
There you have it: The social media crew was helplessly bombarded with Nazi images and had no choice but to post one of them.
This is an opinion piece. The views expressed in this article are those of just the author.