Following Tucker Carlson's Move to 9:00, Martha MacCallum Gets 7:00 Spot on Fox News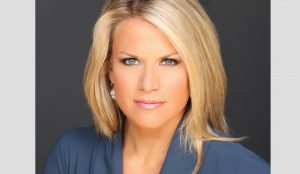 After Megyn Kelly was confirmed to be leaving Fox News Channel earlier this week, everyone wanted to know who would take her 9:00 slot. Now that we know Tucker Carlson is taking it, everyone wants to know who gets his old spot at 7:00.
It's Martha MacCallum!
Her new primetime show will be called The First 100 Days and will focus on the nascent stages of Donald Trump's presidency after it starts on January 16, the week of the inauguration. The channel has yet to name a permanent replacement, as her show will run through — you guessed it — Trump's first 100 days, but things are looking good for MacCallum regardless. She will be co-anchoring the inauguration coverage on January 20 alongside Chief Political Anchor Bret Baier. The status of the show after the first 100 days is to be determined.
Executive Chairman of 21st Century Fox and Executive Chairman of Fox News, Rupert Murdoch, had only good things to say about MacCallum, who recently signed a multi-year contract with FNC and is moving up from America's Newsroom:
Martha is a versatile and skilled anchor who has proven to be an essential component of our news programming. For the last 12 years, our viewers have trusted her reporting and we are pleased she will be part of our primetime line-up for the first 100 days of the new presidency.
Heading to America's Newsroom is Shannon Bream, who was a contender for Kelly's spot herself.
UPDATE — 12:10 p.m. EST:
This post was updated to reflect MacCallum's start date of 1/16.
[image: screengrab]
Have a tip we should know? tips@mediaite.com