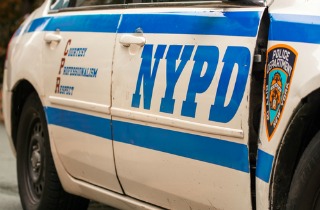 A former NYPD officer is suing New York's Finest for $150 million, claiming that he was routinely harassed for his Jewish heritage and barraged with anti-Semitic remarks.
In a lawsuit obtained by JNS, David Attali, who holds dual citizenship in the United States and Israel, filed a 29-page lawsuit against the NYPD for discrimination and arguing that he was driven to quit the force after six years of abuse.
"It started as 'Jew' and then its 'you f***ing Jew' and Hitler and the concentration camps," Attali told JNS.org in an interview. "They would throw change in my direction and say, 'Can you resist it, Jew? Watch him go after it,'" Attali said, adding that there was "non-stop talk about concentration camps."
Attali claims that the abuse began as soon as he enterd the force as a rookie beat cop, up until he quit while stationed at the World Trade Center. The anecdotes in the case veer from routine harrasment ("It's just 'f'in Jew,' 'dirty Jew,' every type of curse possible with 'Jew' after it. For three years. Nonstop"), to the extreme: finding his locker decorated in swastikas and ham, and at one point, being forced to listen to his colleague's ringtone, which was an excerpt from a Hitler speech.
Though he attempted to alert his superiors to the harassment, Attali says that they did nothing — and news of his complaint only made the abuse worse. "It got very bad, and at a certain point I couldn't deal with it," he said, and quit soon afterwards.
The Policeman's Benevolent Association is representing the officers accused in the case.
[JNS]
[Image via pisaphotography / Shutterstock.com]
—
>> Follow Tina Nguyen (@Tina_Nguyen) on Twitter
Have a tip we should know? tips@mediaite.com