Former GOP Lawmakers: 'Manifestly Unqualified' Trump Represents an 'Unacceptable Danger'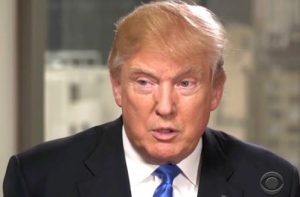 Thirty former GOP lawmakers joined the chorus of prominent Republicans speaking out against their party's presidential candidate.
In an unsparing open letter to fellow Republicans published Thursday, the authors excoriate Donald Trump for lacking the "intelligence" to be President, and declare that there is an "unacceptable danger in electing him to lead our nation,"
"As Republican members of Congress, we took pride in representing a political party that stood for honest and principled public leadership in which the American people could place their trust," the letter reads.
"Sadly, our party's nominee this year is a man who makes a mockery of the principles and values we have cherished and which we sought to represent in Congress."
"Given the enormous power of the office, every candidate for president must be judged rigorously in assessing whether he or she has the competence, intelligence, knowledge, understanding, empathy, judgment, and temperament necessary to keep America on a safe and steady course. Donald Trump fails on each of those measures, and he has proven himself manifestly unqualified to be president."
Half of the signatories are announcing their opposition to Trump for the first time.
In March, some six dozen Republican national security experts penned a letter criticizing Trump as "fundamentally dishonest" and "utterly unfitted" to be commander-in-chief.
It was followed by another letter in August, signed by 50 Republicans who all served in senior national security or foreign policy positions. They wrote that Trump "lacks the character, values, and experience to be President" and "weakens U.S. moral authority as the leader of the free world."
In September, 75 former diplomats who served under both Republican and Democrat administrations came together to condemn Trump as wholly unqualified to hold office. The candidate is "ignorant of the complex nature of the challenges facing our country" and "has expressed no interest in being educated," they wrote.
The signatories of the letter published Thursday include:
Steve Bartlett (R-TX), Bob Bauman (R-MD), Sherwood Boehlert (R-NY), Jack Buechner (R-MO), Tom Campbell (R-CA), Bill Clinger (R-PA), Tom Coleman (R-MO), Geoff Davis (R-KY), Mickey Edwards (R-OK), Harris Fawell (R-IL), Ed Foreman (R-TX, NM), Amo Houghton Jr. (R-NY). Sen. Gordon Humphrey (R-NH), Bob Inglis (R-SC), Jim Kolbe (R-AZ), Steve Kuykendall (R-CA), Jim Leach (R-IA), Pete McCloskey (R-CA), Connie Morella (R-MD), Mike Parker (R-MS), Tom Petri (R-WI), John Porter (R-IL), Claudine Schneider (R-RI), John "Joe" Schwarz (R-MI), Chris Shays (R-CT), Peter Smith (R-VT), Edward Weber (R-OH), Vin Weber (R-MN.), G. William Whitehurst (R-VA) and Dick Zimmer (R-NJ)
—
Sam Reisman (@thericeman) is a staff editor at Mediaite.
Have a tip we should know? [email protected]