Former Tea Party Leader Says They Got 'Too Little Value' For Big Investments In Glenn Beck, Rush Limbaugh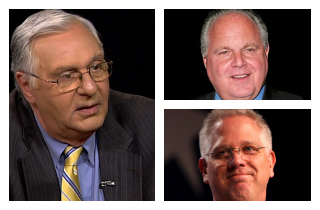 Following former Republican House Majority Leader Dick Armey's tumultuous ouster from the tea party-aligned group FreedomWorks, he is opening up about the details of his group's efforts to elect Republicans to Congress. Armey spoke exclusively to the progressive media watchdog group Media Matters for America and said that his group received "too little value" for their substantial investment in conservative broadcasters like Glenn Beck and Rush Limbaugh.

RELATED: Dick Armey Literally Mounted Armed Coup At Tea Party Group Prior To His Ouster, According To Report
Armey said that his group invested substantially in right-leaning broadcasters, including Beck and Limbaugh. He was unsure of the sum which Limbaugh had negotiated with FreedomWorks, but said that Beck had negotiated $1 million annually for positive mentions. Armey was not, however, happy with the return on the investment.
"The arrangement was simply FreedomWorks paid Glenn Beck money and Glenn Beck said nice things about FreedomWorks on the air," Armey, the former House majority leader, told Media Matters Friday. "I saw that a million dollars went to Beck this past year, that was the annual expenditure."
"I put it down now as basically as paid advertising for FreedomWorks by Beck," said Armey.
"If Limbaugh and Beck, if we were using those resources to recruit activists and inform activists and to encourage and enthuse activists, that's one thing," Armey explained. "If we are using these things to raise money; one, it's a damned expensive way to raise money; and two, it makes raising money an end on to itself not an instrumental activity to support the foundation work that our organization does."
In the interview, Armey was also highly critical of some of FreedomWorks' activities, including charging an admissions fee to activists who attended the group's political rallies across the country, called FreePACs.
"You don't charge activists to attend rallies. I would consider that wholly inappropriate behavior," Armey said. He detailed a number of problems he had with the way in which the organization was run and how they used his name as a fundraising tool.
Read the full interview via Media Matters for America
> >Follow Noah Rothman (@Noah_C_Rothman) on Twitter
Have a tip we should know? tips@mediaite.com