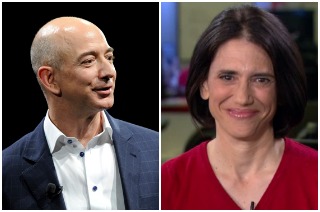 Former Washington Post ombudsman Patrick Pexton has some advice for new owner Jeff Bezos: fire conservative blogger Jennifer Rubin.
As the one who fielded complaints whenever the Post messed up—or whenever a reader thought they messed up—Pexton offered multiple points of counsel in an open letter to Bezos, a novice to the journalism game. Among them: grow a thick skin, and don't forget that trust is your product—in contrast, Pexton notes, to Amazon's admittedly successful practice of just selling "stuff."
But Pexton spends most of his letter addressing Rubin, author of the blog "Right Turn," whose proximity to the 2012 Romney campaign led to numerous criticisms that she was functioning as the GOP nominee's bullhorn. It's not Rubin's ideology to which Pexton objected, but her journalistic chops and ethics:
Have Fred Hiatt, your editorial page editor—who I like, admire, and respect—fire opinion blogger Jennifer Rubin. Not because she's conservative, but because she's just plain bad. She doesn't travel within a hundred miles of Post standards. She parrots and peddles every silly right-wing theory to come down the pike in transparent attempts to get Web hits. Her analysis of the conservative movement, which is a worthwhile and important beat that the Post should treat more seriously on its national pages, is shallow and predictable. Her columns, at best, are political pornography; they get a quick but sure rise out of the right, but you feel bad afterward.

And she is often wrong, and rarely acknowledges it. She was oh-so-wrong about Mitt Romney, week after week writing embarrassing flattery about his 2012 campaign, calling almost every move he made brilliant, and guaranteeing that he would trounce Barack Obama. When he lost, the next day she savaged him and his campaign with treachery, saying he was the worst candidate with the worst staff, ever. She was wrong about the Norway shootings being acts of al-Qaida. She was wrong about Chuck Hagel being an anti-Semite. And does she apologize? Nope.
This wasn't just his opinion, Pexton wrote, but the aggregate conclusion of the Post's readership:
Rubin was the No. 1 source of complaint mail about any single Post staffer while I was ombudsman, and I'm leaving out the organized email campaigns against her by leftie groups like Media Matters. Thinking conservatives didn't like her, thinking moderates didn't like her, government workers who knew her arguments to be unfair didn't like her. Dump her like a dull tome on the Amazon Bargain Books page.
Read the full letter HERE.
[h/t Talking Points Memo]
————
>> Follow Evan McMurry (@evanmcmurry) on Twitter
Images via RCP, Fox Business
Have a tip we should know? tips@mediaite.com