Fox Anchor: 'Anarchist Thugs' Attacked Scott Baio, Kellyanne Conway Threw Punches at Inaugural Ball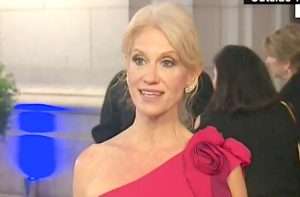 According to a recent Facebook post from Fox Business's Charles Gasparino, the Victory Ball on Inauguration night was pretty eventful, particularly for Trump supporter Scott Baio and former campaign manager and current advisor to Trump Kellyanne Conway. According to his account, he met his "pal" Baio outside the ball, and was saying hello when "a bunch of anarchist thugs began to descend on us screaming 'hey Chachi are u fascist?'"
Gasparino says the incident escalated until his producer Brian Schwartz "intervened and crisis was averted." But, if you thought that was interesting, that's just part one.
He said that inside the ball, he saw a fight between two people and "suddenly out of nowhere came Trump adviser Kellyanne Conway who began throwing some mean punches at one of the guys." He said that the whole incident lasted "a few mins" and that he doesn't believe anyone was hurt.
He ended the post saying, "Now I know why Trump hired her. Btw I exaggerate none of this."
Gasparino also tweeted the following:
Wild night for me & @schwartzbFBN witnessed @KellyannePolls in middle of a fight at Liberty ball; stopped a thug from attacking @ScottBaio

— Charles Gasparino (@CGasparino) January 21, 2017
It's unclear at this point where the alleged incident actually took place: Gasparino says it was the Victory Ball in his Facebook post and the Liberty Ball in his tweet.
We've reached out to Conway for comment and will update this post accordingly.
[featured image via ]
Have a tip we should know? [email protected]