O'Reilly Factor producer and resident handsome guy Jesse Watters has made a name for himself with his weekly Watters' World man-on-the-street segments presenting highly edited videos of daily Americans (ahem, liberals) who supposedly demonstrate little common sense. His pranks and guffaws make boss Bill O'Reilly gleam ear-to-ear every Monday night like a proud papa watching his son round the bases in little league.
In what was either a Twitter DM gone wrong or a universal plea for attention, Watters took to Twitter this morning and blasted out to his 71.2K followers the following: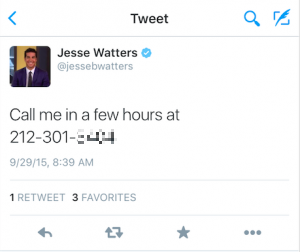 But who is supposed to call Jesse Watters today? Either way, the tweet was deleted immediately after I managed the above screenshot (and blurred out the last four digits. You're welcome Watters).  In the scheme of things, a Twitter DM foul up could have gone much, much worse. But for poor Jesse Watters, life must be tough ever since he took to Fox News last night wearing his Abercrombie special to expose the horrible truths… of youths with tattoos ("36% of Americans under the age of 25", exclaimed a shocked O'Reilly before the segment). One of the people in this picture has a horrible sense of fashion, and the other is covered in tattoos.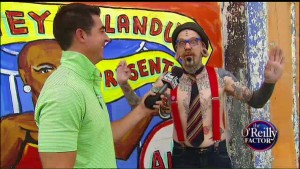 In the age where people hide behind keyboards and texts, maybe Watters simply wants to connect with a human voice over the phone. Given that he asked for the call "in a few hours", let's assume that at 11:39 AM, someone is going to be calling him. Maybe it's one of his tatted subjects from Monday's night show, maybe a hot lead for the No Spin Zone, or maybe just a friend to brighten up his day like a chartreuse popped collar.
[images via screengrab]
—
>> Follow J.D. Durkin (@MediaiteJD) on Twitter
Have a tip we should know? tips@mediaite.com