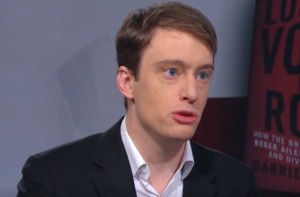 Cable news junkies know that New York Magazine's Gabriel Sherman is what you would call a thorn in the side of Fox News and Roger Ailes for a while. He has critically reported on the network for years, but his reporting this summer has been at the forefront of the ongoing scandal at Fox over sexual harassment allegations against Ailes––which led to his firing.
Two years ago, Sherman released the book The Loudest Voice in the Room: How the Brilliant, Bombastic Roger Ailes Built Fox News–and Divided a Country, casting a critical light over the now-former Fox News Chairman & CEO. Fox News was pretty fierce in denying some of the allegations in the book.
And now CNN's Brian Stelter obtained a memo that apparently Fox News had two years before that book came out. And this is basically the crux of what you need to know about what it contained:
It includes, among other things, property records, voter registration information, and a note that the researchers could find no criminal record for Sherman.

A printout from the Westlaw database contains his past and present addresses and details of his mortgage.
The memo is reportedly "book-length"––about 400 pages––and a lot of it includes things that Sherman has written about Fox News, Republicans, pundits, etc.
And CNN's reporting also gives some insight into the mentality at Fox about such things:
Shown a portion of the Sherman memo, a former Fox News employee said she hadn't seen it, but saw other memos like it while working there.

She would not say who else was targeted, but said the memos always contained information like voter registration.
Sherman recently said in one of his reports that he was followed by people working for Fox at one point and others at the network "set up web pages to attack my reputation."
We have reached out to Fox News for comment.
UPDATE –– 10:19 pm ET: Fox News PR chief Irena Briganti issued this response to CNN:
Briganti denied any knowledge of the research memo when contacted by CNNMoney on Friday.

"The Fox News PR department was never involved in conducting or executing any opposition research against Gabe Sherman," she said in a statement. "It's been widely reported that there was a separate team not associated with PR which conducted extensive operations unbeknownst to anyone whose official job was to deal with the press."
[image via screengrab]
— —
Follow Josh Feldman on Twitter: @feldmaniac
Have a tip we should know? tips@mediaite.com
Josh Feldman - Senior Editor