Fox News to Air Sean Hannity's Exclusive In-Person Interview With Julian Assange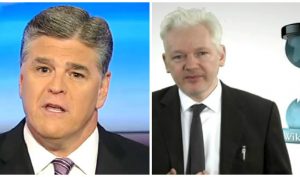 Fox News announced today that host Sean Hannity will present an exclusive in-person one-on-one interview with WikiLeaks founder Julian Assange. The two will talk about allegations of Russian hacking, the incoming Trump administration and Barack Obama's presidency.
Hannity will travel to London to speak to Assange, who is currently living in the Ecuadorian embassy under political asylum as he sought refuge over a Swedish rape warrant. Assange and WikiLeaks became heavily involved in America's past election due to its slow drip leak of Hillary Clinton ally John Podesta's emails ahead of Election Day, as well as the DNC email dump during the summer.
Hannity's interview comes at a time when much of the news is focused on the role Russia played in the email hacks. Assange has previously stated that he did not receive the hacked material from the Russians. He also released a statement at the time of the election that WikiLeaks wasn't trying to influence the outcome. At the same time, the WikiLeaks founder has been highly critical of Clinton.
Hannity will first present the interview on Tuesday night at 10 PM ET on Fox News and then will air additional parts of the conversation throughout the week.
The Fox News host was once a critic of Assange and WikiLeaks. However, over the past few months, he has seemingly changed his opinion on the organization and man, and has interviewed him via video and phone. He's even hit back at Republicans who have called him out for his apparent flip-flop.
Mediaite will be covering the airing of the interview so please make sure to check back with us on Tuesday and the rest of the week.
[image via screengrab]
–
Follow Justin Baragona on Twitter: @justinbaragona
Have a tip we should know? tips@mediaite.com