Fox News Tops Cable and Broadcast Networks for Trump Address, NBC Leads in Demo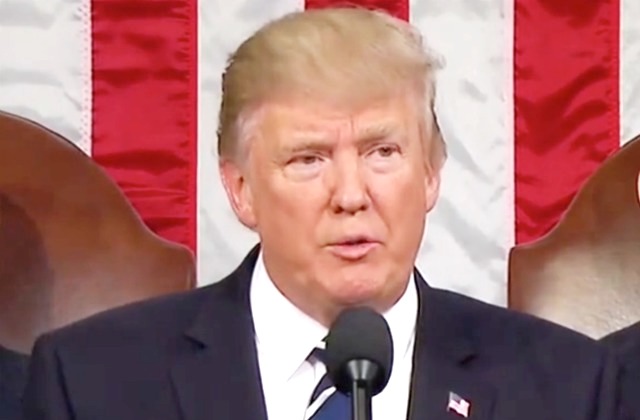 The final numbers are in for the broadcast and cable networks for Donald Trump's presidential address to the joint sessions of Congress, and while Trump attracted millions less than Barack Obama's first presidential address, tens of millions of Americans still tuned in.
Overall, 43.4 million viewers tuned into various networks to watch Trump's speech. And the network they went to more than any other was Fox News. 10.8 million total viewers tuned into Fox News to watch the address (9:15 PM ET – 10:15 PM ET), which was not only the highest among cable news networks, but beat out all of the broadcast nets. Fox News also finished second overall in the key 25-54 demographic, with 2.8 million tuning in.
NBC was tops among the broadcast channels and second overall with 9.1 million total viewers. It also finished first overall in the demo, nabbing 3.3 million of those viewers. CBS was next with 7.2 million total viewers and 1.9 million in the 25-54 demo, followed by ABC with a total viewership of 6.1 million and 2.1 million in the demo. FOX finished last among broadcast channels with 3.1 million total viewers and 1.4 million in the demographic.
CNN pulled in a total of 3.9 million viewers for the address, with 1.5 million in the key demo. MSNBC grabbed a total viewership of 2.7 million and 669,000 in the demographic. Fox Business delivered a total of 593,000 viewers and 118,000 in the demo.
As for primetime coverage, Fox News easily beat out its cable news competition, averaging 7.8 million total viewers and 1.9 million in the demo, compared to 3.0 million total/1.2 million demo for CNN and 2.5 million/617,000 demo for MSNBC.
[image via screengrab]
—
Follow Justin Baragona on Twitter: @justinbaragona
Have a tip we should know? tips@mediaite.com