A More Centrist Fox News? Five Revelations From Newsweek Profile Of Roger Ailes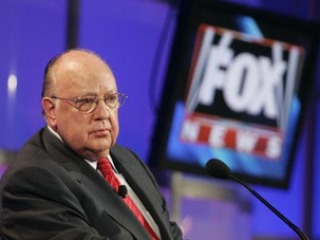 The Daily Beast and Newsweek have offered a revealing look at Fox News president Roger Ailes — and it's interesting not only because it provides additional insight regarding Ailes, the wildly successful businessman; but also provides a rare glimpse into Ailes and his personal life (Example: Don't try to get between Ailes and a pinch of sea salt!), Perhaps most noteworthy, the piece offers a brief look into the future of Fox News Channel.
It appears that Newsweek writer Howard Kurtz (who also hosts CNN's Reliable Sources) was afforded a rare level of access in doing research for this article. The fascinating read hits many of the same notes we have come to expect to hear about the Fox News chief — he can be combative, sees himself as an underdog, and uses candor to both charm and command respect from his staff — but the larger leitmotif of the essay is that the pendulum of Fox News' opinion coverage is swinging back towards the middle. Or, at the very least, that's the message that Kurtz and Ailes would like the reader to take away. There are lots of great details to highlight as well:
For starters, then, let's take a look at just one example supporting the notion that Ailes is a man who knows very well what he wants. And no New York City mayor is going to change that.
Ailes is a brawler, albeit one with a preference for lavender shirts, and he isn't one to mince words. A mention of New York Mayor Michael Bloomberg unleashes a tirade about the mayor's latest health crusade. "I like Bloomberg, he's a friend. But fuck him and the salt. I like salt. It's not his business."
Ailes is also fully aware that a little competition never hurt anyone…
(Ailes seems to relish the feuding among his stars, saying, "O'Reilly hates Sean and he hates Rush because they did better in radio than he did.")
Speaking of competition, Ailes keeps a close eye on other news outlets as well, not only to see what they're up to, but also to gauge the tone and rhetoric they employ in packaging the news for their audiences:
The talk turns to terrorism. Ailes is angry about an Associated Press report that 29 worshipers were killed by a suicide bomber in Baghdad's largest Sunni mosque during prayers. "How do we know they were worshiping?" he demands. "I think the AP is so far over the hill, they've become left wing, antiwar. Gotta watch their copy."

The topics bounce from CNBC's weekend ratings ("They have shows about hookers and stuff, don't they?") to Fox's own security ("Listen, one out of every 25 people in America is a psychopath").
Ailes keeps a close eye on the network's stars. While this might appear, on the surface, to be the result of a tendency to micromanage the network's talent, the overall takeaway is that Ailes is constantly viewing his network in terms of the big picture — a picture, as at least one former aide to Barack Obama has noted, that may be transforming:
Ailes keeps a wary eye on anchor Shepard Smith, who occasionally backs aspects of the Obama record: "Every once in a while Shep Smith gets out there where the buses don't run and we have a friendly talk." And Ailes likes to tease O'Reilly: "You gonna suck up to Obama so you can get another interview at the next football game?" Democrats have noticed the change. Says former Obama aide Anita Dunn: "You have the sense that they're trying to at least appear less of the hyper-partisan political network they had been."
You see, if there is one thing that Ailes focuses on, it's the bottom line. The profile presents a picture of a man finely attuned not only to what the American public says they want, but what they're actually going to end up watching. And, for now, it seems that means a subtle tweaking of Fox News' programming and overall tone:
He calls it a "course correction," quietly adopted at Fox over the last year. Glenn Beck's inflammatory rhetoric—his ranting about Obama being a racist—"became a bit of a branding issue for us" before the hot-button host left in July, Ailes says. So too did Sarah Palin's being widely promoted as the GOP's potential savior—in large measure through her lucrative platform at Fox. Privately, Fox executives say the entire network took a hard right turn after Obama's election, but, as the Tea Party's popularity fades, is edging back toward the mainstream.
Do yourself a favor and read the interesting essay at Daily Beast / Newsweek.
Have a tip we should know? tips@mediaite.com