FoxNews.com Posts Cut Fox News Watch Segment Inaccurately Criticizing NBC News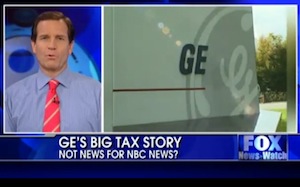 For the uninitiated Fox News Watch is a weekend news program that covers the media coverage of the past week's events; it's ostensibly the FNC answer to CNN's Reliable Sources. The past episode of the program has earned a bit of unwanted attention for themselves when programming staffers inadvertently aired revealed via FoxNews.com an awkward segment, critical of NBC News coverage of General Electric, that was interrupted by on off-camera "cut!" and appears to have never been meant to hit the airwaves.
The segment (embedded below) focuses on the recent controversy surrounding General Electric, who, despite having earned billions in revenue in the last year, reportedly paid zero dollars in federal taxes last year. This has raised legitimate questions about both the corporate tax code and the role that GE CEO Jeffrey Immelt is playing with the Obama Administration leading a new jobs council.
Host Jon Scott introduced the segment after first airing a report filed by ABC News' Jake Tapper that was critical of GE's taxes, then pronounced that NBC News (which is partly owned by GE) has not yet reported on the segment. He is quickly corrected by panelist Jim Pinkerton who claims that NBC actually had aired a report on the controversy, which is quickly seconded by fellow panelist Judith Miller then jumped on by Alan Colmes. The net result? A segment designed to criticize and ridicule NBC News' coverage of this controversy quickly unravels into something entirely different, which results in the off-camera "cut!" and a reintroduction/re-taping of the entire segment. Rarely does the audience get insight into the actual production of TV sausage that the following clip reveals.
The rhetorical battle between Fox News and NBC's former parent company GE is legendary, complete with an ambush style interview of Immelt during a GE shareholders meeting and consistent attacks by Bill O'Reilly. NBC News is now primarily owned by Comcast, however GE still owns a minority stake in the media outlet.
Update: Johnny Dollar points out to Mediaite that the following segment never aired on Fox News, rather was released via FoxNews.com. The post has been edited to accurately reflect those changes.
(H/T Johnny Dollar, via TV Newser)
Have a tip we should know? tips@mediaite.com