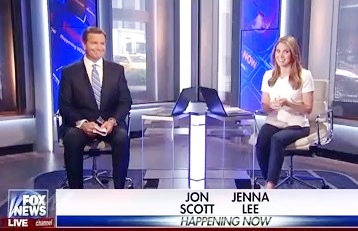 We need to talk about Fox News Channel's female hosts and their relationship with pants.
Well, people have been talking about it for years, but in the last few weeks, there's been less talk and more action on the part of the on-air talent themselves. Every time pants appear on a woman on Fox, the tweets start coming and our "tips" inbox fills up with viewers curious to know if the ousting of Roger Ailes and Bill O'Reilly and the resignation of Bill Shine have ushered in a new era at Fox News.
To answer that, we need to look back at past statements on the matter.
A few years ago, long before she filed the sexual harassment suit that brought down Ailes, Gretchen Carlson accidentally made a crack on a radio show about not being able to wear pants while hosting Fox & Friends. Her statements were followed up recently by what seemed to be a confirmation from Jedediah Bila, who absconded from Fox to cohost ABC's The View last year. Bila said that she "wasn't given a pants option" in her time at the cable news channel.
Add to those claims the talk of a designated "leg cam" meant to highlight the stems of whatever woman was selected to sit on the end during a panel show and the disgusting websites and YouTube channels set up explicitly to post about female hosts' legs and you have quite the stunning portrait of how things were rumored to work at the network.
What we're saying is this: observers have long questioned the network's stance on pants.
@horhay1704 @yashar They literally remove the fronts of desks when women are sitting at them. pic.twitter.com/gFQWupuuOS

— Schooley (@Rschooley) April 28, 2017
All of that being said, we're reasonably sure that a hard pants ban was never uniformly enforced across the network and there have been reports that the policy doesn't exist. We've also definitely seen instances of Maria Bartiromo and Ainsley Earhardt wearing pants and jumpsuits over the past few years. Three female hosts even told us specifically last summer — at the height of all the Ailes drama — that they could wear pants if they wanted to. They insisted they just preferred dresses!
All we really know is that hosts like Jenna Lee and Sandra Smith have appeared in clothing other than dresses in recent weeks and we're not alone in noticing.
Don't be shocked but Jenna Lee is wearing pants ? https://t.co/RRDWMo0uyu

— Fox News Fan (@FNC_Ladies_Rule) April 27, 2017
@FNC_Ladies_Rule Sandra Smith wearing pants last week a few times. Stop this madness.

— Southie Loon (@SouthieLoon) May 1, 2017
@FNC_Ladies_Rule It's ominous. Thankfully, Trish Regan won't succumb to this annoying trend. Fox is changing and not for the better.

— Southie Loon (@SouthieLoon) May 1, 2017
Since @SandraSmithFox showed on @OutnumberedFNC the "no pants rule" is gone as she wore a Jumpsuit today…

?time for "Viva Abby" on F&F pic.twitter.com/GRGC5kE32N

— Fox News Fan (@FNC_Ladies_Rule) April 13, 2017
This is a
!!FOX NEWS ALERT!!@FoxNews @HappeningNow @JennaLeeUSA

Jenna Lee
is
WEARING PANTS!
?

I didn't think
that was even ALLOWED?!

— Valerie Martin (@WILLDYE4U) May 1, 2017
@kimguilfoyle Kimberly, what was with the pants suit the other day on the Five?? And the next day, Sandra Smith had one on, on Outnumbered.

— dave (@dave1812) April 15, 2017
Any pants revolution, however, may soon be coming to a halt. The heretofore ridiculously reliable Gabe Sherman tweeted that the woman who was appointed President of Programming after Shine resigned yesterday, Suzanne Scott, reportedly used to enforce the alleged no-pants rule.
During Ailes era, Suzanne Scott was in charge of enforcing Ailes mini-skirt dress code for women. Fox women asking how culture will change?

— Gabriel Sherman (@gabrielsherman) May 1, 2017
A Fox News spokesperson says there is no such policy. They've been saying that for a long time, but that has yet to stop the incessant rumors.
[image: screengrab]
Have a tip we should know? tips@mediaite.com